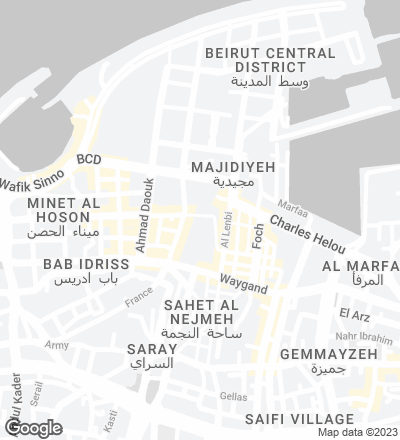 Four years after an international competition that failed to lead to a final proposal, Solidère – the entity responsible for the recovery and revitalization of the center of Beirut, which suffered damage during the civil war – offered the studio, in 1996, the commission to reconstruct the souks of the city, with the premise that the new building had to be conceived in connection with its context. The design sought a new identity inseparable from the past of Beirut and from a strategic site of utmost importance throughout the history of the city, from the Phoenician settlements up to the more recent French colonial past, via the Hellenistic, Roman, Byzantine, Arab, Mamluk, and Ottoman periods.
The architectural proposal aimed, therefore, to create a structure able to restore the place's customary importance, but that at the same time, and considering the contemporary program required, it also had to be flexible, ensuring that it could be easily divided and organized for use by merchants.
The project, on the other hand, respected the fabric of the city almost literally. The main souks were kept in their pre-war location. Their respective dimensions and functions were recreated, but using a new language. The floor plan produced is one where souks are arranged as a structure of covered passageways, like backbones with resistant elements placed perpendicular to the inner streets. Besides, the relationship with the urban fabric was reinforced, especially the connection with the surrounding streets, so that the souks could maintain their permeable character; a quality that has always distinguished the souks of Beirut from other no less important but more closed souks, like those of Aleppo or Istanbul. The slope is also one of the characteristic features of the project, as it had been too in the old souks.
From the point of view of construction, the herringbone texture of the stone facing of the concrete block walls extends to the whole urban fabric, giving the new ensemble the necessary uniformity and stressing the vital character of this unique meeting place, located in the city center. The souks, furthermore, were fit out with all those generic elements – walls, roofs, skylights, lamps – which, in combination, create an architectural atmosphere of their own, one that evokes the context...[+][+]
Cliente Client
Solidère
Arquitecto Architect
Rafael Moneo
Colaboradores Collaborators
Hayden Salter, Juan Hevia (arquitectos a cargo del proyecto project architects); Hashim Sarkis, Dima Khairallah, Christoph Schmid, Sigrid Geerling, Cristobal Roig; Tania Urvois; Samir Khairallah and Partners (arquitectos asociados associated architects)
Dirección de obra Construction supervision
Rafael Moneo, Juan Hevia, Samir Khairallah & Partner
Consultores Consultants
Samir Khairallah & Partners, Nasr&Khalaf (ingeniería engineering); Juan de Dios Hernández & Jesús Rey (maqueta model)
Contratista Contractor
ACC
Superficie Floor area
45.000m² (sobre rasante above street level)
Fotos Photos
Duccio Malagamba, Solidère