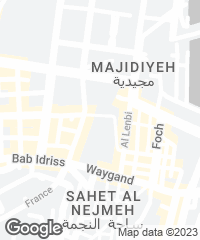 Solidère —la sociedad que promueve la revitalización del centro de Beirut tras la destrucción producida por la guerra civil— encargó la reconstrucción de los souks, los históricos zocos de la ciudad, con la premisa de que el nuevo edificio se concibiese en relación con su entorno, buscando una nueva identidad indisociable del pasado de Beirut y particularmente de un enclave que, dada su posición estratégica en la ciudad, siempre fue importante a lo largo de la historia, desde el seminal asentamiento fenicio hasta el reciente pasado colonial francés, pasando por los periodos helénico, romano, bizantino, árabe, mameluco y otomano.
La respuesta arquitectónica pretendió, así, crear una estructura que volviese a dar al lugar su consuetudinaria importancia, pero que, habida cuenta del programa contemporáneo que debía atenderse, fuera también flexible, de manera que pudiera dividirse y organizarse con facilidad para propiciar la ocupación del espacio por los comerciantes.
El proyecto, por otro lado, respetó casi literalmente el tejido de la ciudad. Se mantuvieron los zocos principales en su ubicación anterior a la guerra, recreándose sus respectivas dimensiones y funciones, pero con un nuevo lenguaje. De este modo, se llegó a una planta en la que los zocos se configuran adoptando una estructura de pasajes cubiertos, a modo de espinas dorsales con los elementos resistentes dispuestos en directrices perpendiculares a las calles interiores. Además, se reforzó la relación de los zocos con la trama urbana atendiendo con especial interés a su conexión con las calles circundantes, de tal modo que los zocos mantuviesen su carácter permeable, una cualidad que siempre ha distinguido a los souks de Beirut de otros con un carácter más cerrado, como los de Aleppo o Estambul. La pendiente es también uno de los rasgos característicos del proyecto, como lo había sido también en los antiguos zocos.
Desde el punto de vista constructivo, la textura espigada del aplacado pétreo de los muros de bloque de hormigón se extiende en toda la fábrica urbana dotando al nuevo complejo de la unidad necesaria y subrayando el carácter alegre de este lugar único situado en el centro de la ciudad. Los zocos, asimismo, están dotados de todos aquellos elementos genéricos —muros, cubiertas, lucernarios, lámparas— que, en último término, se combinan para crear una atmósfera arquitectónica propia.[+]
Obra
Beirut Souks / Zocos de Beirut (El Líbano).
Cliente
Solidère.
Arquitectos
Rafael Moneo
Colaboradores
Samir Khairallah and Partners (arquitecto asociado); H. Salter y J. Hevia (arquitectos a cargo del proyecto); H. Sarkis, D. Khairallah, C. Schmid, S. Geerlings, C. Roig, T. Urvois.
Consultores
Samir Khairallah and Partners / Nasr & Khalaf (ingeniería); Juan de Dios Hernández y Jesús Rey(maqueta).
Contratista
ACC.
Fotos
Duccio Malagamba.