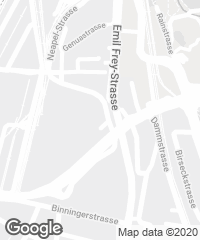 What is the point of a Schaulager, of a building in which art is stored but still accessible to the public? What ideas about art and collection strategy does it involve, and what is the best architectural and urban concept for it?
The brief: a warehouse for contemporary art, where works take up considerably less space than in a museum because they are hung side by side on the walls and placed closer together on the floor. The art is to be stored with the best possible climate control and will be accessible by arrangement. There will also be a few tailormade spaces for installations that cannot be shown to best advantage in the Museum für Gegenwartskunst (Museum of Contemporary Art) in St. Alban Tal. Offices and workshops, an auditorium and the necessary loading and unloading facilities round off the spatial program.
So we tried to develop a kind of architecture that would express the floor-by-floor storage and stacking pictorially as well: as something durable and solid, in contrast with today's aesthetic of computer controlled storage facilities and the inevitable light-weight design. The heavy outer walls would rise in layers and their surface would be scratched. This means that the walls reveal the pebbles from the building work excavations. These layers of material express load and support simply and vividly, and their great inertia is also a key factor in the climatic control of the store.
The external shape of the warehouse is pragmatically derived from the geometry of the internal storage arrangements and the setback requirements of the building code. This led to a polygonal building looking as if it had been extruded from the ground. The facade of the polygon facing Emil-Frey-Strasse is indented to create a kind of forecourt, which identifies the entrance area visibly from a distance. This entrance seems to be guarded by a little building with a gable roof, constructed from the same earthy material as the warehouse. Together the little gatehouse and the indentation form a courtyard-like space with a metropolitan ambiance. So the Schaulager is a place that is usually quiet, but still active and self-confident, extending the public dimensions of the city of Basel to the south, towards the new district of Dreispitz/Münchenstein. The public, urban character of this new site is reinforced by two large LED panels, on which works of art commissioned by the Schaulager are communicated to the outside world.
Cliente Client
Emanuel Hoffmann Foundation
Arquitectos Architects
Jacques Herzog, Pierre de Meuron, Harry Gugger, Philippe Fürstenberger
Colaboradores Collaborators
S. Adolf, N. Hatz, I. Huber, J. Johner, C. Müller, C. Pfister, K. Ritz, M. Schmidt, F. Stirnemann, L.Weber, M. Zimmerli
Consultores Consultants
Zachmann & Pauli (estructuras structural engineering); Amstein &Walthert (instalaciones e iluminación service engineering and lighting); Vogt (paisajismo landscape)
Contratista Contractor
GSG Projekt Partner AG
Fotos Photos
Christian Richters, Ruedi Walti, Margherita Spiluttini