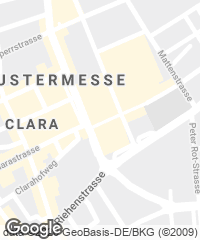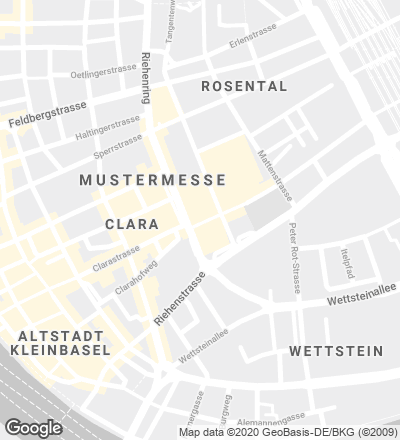 Venue of several important international fairs, the Messe Basel facilities concentrate around the Messeplatz, in the Kleinbasel neighborhood. Aiming to reinforce the density of this square – presided by an office building known as Messe Tower; to recover the spaces of the former train station (whose program is now linked to the fair) for apartments and retail; and to update its own installations, some of which do not fulfill modern exhibition standards, the Messe Basel management decided to replace two of its old buildings (Hall 1 at the front and Hall 3) with a new structure.
The main architectural and urban element of the project, conceived as an extension of Hall 1 along Riehenring avenue, is a large toplit plaza that will house a wide range of uses and activities, and has therefore received the name of City Lounge. This is a covered public space equipped with all kinds of services, resembling a railway station concourse or an indoor market. The City Lounge is not only the entrance to the fairs, but also a lively gathering point at the end of Clarastrasse, the main shopping street in Kleinbasel.
Internally, the building complies with the requirements of a facility of these characteristics: wide-span rectangular rooms and ceiling heights of around 10 meters. In this context, the fair stands must draw all the attention of the visitors, and architecture is only glimpsed in the public and circulation areas, as in the interior courtyard of Hall 2: one of the most attractive public areas in the city during fairs, but not accessible during the rest of the year. The City Lounge, with its large open oculum, can be understood as an interpretation of the round courtyard of Hall 2, only that here the space is always accessible to the public. Furthermore, the need to create neutral and opaque halls for the fairs leads, very often, to a poor architecture of stacked boxes. The new intervention, however, proposes a transparent design and dynamic forms on ground floor, as a response to the circulation flows in the city. The two upper levels have slightly different geometries and warped facades, strengthening their formal independence and respecting the solar conditions of the apartments in front of them. A continuous surface of curved metallic bands, resembling a large-scale deployé, covers these facades and also the interior of the round courtyard over the City Lounge.
Cliente Client
MCH Swiss Exhibition Ltd., Basel, Switzerland
Arquitectos Architects: Herzog & de Meuron
Socios Partners: Jacques Herzog, Pierre de Meuron, Stefan Marbach (socio responsable partner in charge), Wolfgang Hardt.
Equipo de proyecto Project team: Tobias Winkelmann, (asociado associate), Michael Schmidt (mánager de proyecto project manager), Roland Schreiber, Roger Huwyler, Stefan Hörner (arquitectos responsables project architects); Philip Albrecht, Israel Álvarez, Axel Beck, Marcelo Bernardi, Benito Blanco, Alexander Bürgi, Amparo Casani, Estelle Chan, Massimo Corradi, Francis Fawcett, Oliver Franke, Francisco de Freitas, Eik Frenzel, Thomas von Girsewald, Johann Gruber, Sabine Harmuth, Oke Hauser, Volker Helm, Wilhelm Heusser, Yuko Himeno, Ursula Hürzeler, Thorsten Kemper, Manuel Klauser, Oxana Krause, Sibylle Küpfer, Sophia Lau, Christian Laviola, Corinne Lopez, Xiaojing Lu, Ulrik Mathiasson, Katja Mezger, Marcello Nasso, Benjamin Olschner, David Palussiere, Dirk Peters, Louis Putot, Nina Renner, Sebastian Reinhardt, Steffen Riegas, Kathrin Riemenschnitter, Nathalie Rinne, Georg Schmid, Katja Schneider, Jochen Seelos, Jan Skuratowski, Johannes Staudt, Matthias Stüchli, Manuel Villanueva, Miriam Waltz, Christoph Weber, Léonie Wenz, Gerd Wetzel, Douwe Wieers, Claudia Winkelmann, Camillo Zanardini, Christian Zerreis
Planeamiento Planning
ARGE GP / Herzog & de Meuron / Burckhardt + Partner
AG, HRS Hauser Rutishauser Suter AG (planeamiento general general planning); Herzog & de Meuron (planeamiento de arquitectura architect planning); Burckhardt + Partner AG (dirección de obra, construcción construction management, architect construction); ARGE Gruner AG/ Ernst Basler + Partner AG, Ribi + Blum AG, Gruner AG, WITO Engineering GmbH (estructuras structural engineering); Lippuner Energie und Metallbautechnik AG, Kurt Plodeck ECS, Rechberger Huustechnik AG, ARGE Scherler AG, Aicher de Martin Zweng AG, Herzog Kull Group AG (instalaciones MEP and HVAC engineering); Gruner AG (seguridad y protección antiincendios safety and fire protection); Feroplan Eng. AG (fachada facade); Bartenbach GmbH (iluminación lighting); Vogt, Burger & Partner AG (paisajismo landscape design); Rapp Infra (logística y tráfico logistics and traffic planning); Pfirter + Nyfeler AG (geología geology); Zimmermann + Leuthe GmbH (energía y física energy and physics)
Consultores Consultants
Neuschwander + Morf (fachada facade)
Contratista Contractor
Burckhardt + Partner AG
Fotos Photos
Iwan Baan; Messe Basel / MCH Group