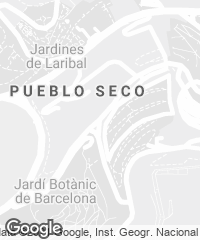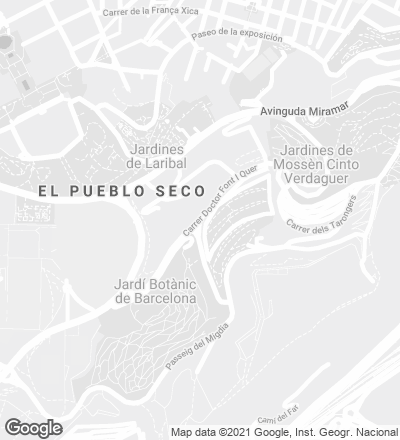 Guarding Barcelona from its south tip, Montjuïc has served as the physical support for the city's most far-reaching events of the past century. Site of the reproduction of traditional Spanish architecture for the Pueblo Español at the 1929 Universal Exhibition, this mountain was consolidated by the 1992 Olympic Games as a sports acropolis topped by Isozaki's Palau Sant Jordi, Calatrava's telecommunications tower, and the old stadium, remodeled by Gregotti, Correa and Milá. Following in Montjuïc's exhibition tradition, which also includes buildings like the Miró Fondation and the archaeological museum, a 15-hectare plot on its north slope has been staked out as a botanical garden. Besides the obligatory scientific and pedagogical content, the site will be one of the largest green zones in Barcelona for the enjoyment of the people.
Instead of a philatelic composition of floral squares, the idea was to link up all the displays in a single discourse. Hence the project adopted a strategy of triangulation, inspired by surveying techniques, that presented itself as a useful instrument with which to domesticate the wild topography of the place while unifying the complex. The directions of this grid are adapted to those imposed by the contour lines of the terrain, in such a way that each triangle has two vertexes at the same height and an area that varies with the slope, minimizing the work of moving soil. The imposed geometry also serves to rationalize the drainage and irrigation networks, endowing the garden with a hierarchized system of paths that offers the visitor a choice of routes, each of a different botanical interest.

A patchwork of triangles was the chosen geometric scheme for organizing the different plantings, distributing the irrigation network, and laying out paths along the most suitable directions of the existing topography.
Resting on a scheme of concave and convex Core Ten steel walls, the fractured garden structure addresses the plants' photosynthetic and irrigation needs, as well as the affinities between certain species. Plants are organized radially in phytogeographic groups: to the northwest the flora of the Canary Islands; to the southeast the vegetation of regions climatically similar to our own, such as Chile and California; and the heart of the park for species indigenous to the Iberian Peninsula. Some nodes of the grid are equipped with pergolas and chairs allowing one to contemplate the botanical mosaic as in a museum, while the gatehouse and the block that will eventually accommodate the C.S.I.C. Institute tense the routes from different levels. Irregular and fragmented, the vegetal diversity of the planet is trapped in the networks of Mandelbrot.
Cliente Client
Ayuntamiento de Barcelona
Autores Authors
Carlos Ferrater, José Luis Canosa (arquitectos architects); Bet Figueras(paisajista landscape designer)
Colaboradores Collaborators
Proyectos urbanos, Ayuntamiento de Barcelona
Consultores Consultants
Josep Montserrat, Joan Pedrola (asesoría botánica botanical consultant);Taller dÉnginyeries (ingeniería engineering)
Contratista Contractor
Stachys
Fotos Photos
TAVISA, Alejo Bagué