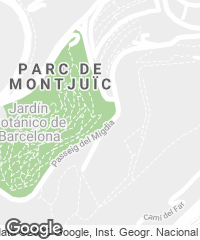 Built in the year 2000 on the mountain of Montjuic, by the Olympic Ring and with impressive views of Barcelona, the Botanical Garden is a triangular mesh of concrete paths and cor-ten steel walls, concave and convex, that cover the north hillside. The Botanical Institute now goes up on its highest area, a building for the Consejo Superior de Investigaciones Científicas (Council of Scientific Research) that shares both views and materials with the garden.
Coronando el Jardín Botánico, estas nuevas dependencias dedicadas a la investigación se instalan en la ladera a modo de mirador, rematando con el gesto contundente del porche la malla de paseos que recorren el parque.
The new volume, a horizontal prism between two levels, stretches over the northeast wing of the garden, populated by Mediterranean and North African species. Its section, half-buried in the slope, allows to organize the different parts of the program with independent accesses from the rear street and the from the park paths.
A concrete box anchors the building to the mountain, acting as a large container – with a specific air conditioning – for the deposits of plants and books, and for the large herbarium. The systems rooms and a small working area complete the lower level, underground, that is illuminated and ventilated by way of two courtyards cut out from the two ends of the box, through which two staircases lead directly to the exterior. This box acts as a structural counterweight of the mechanism that supports the upper floors: from here, and every six meters, rise the screens, the walls and the concrete girders that end up exceeding the roof on the last floor. In the intermediate level, a continuous wall of transparent glass, without mullions along the facade and three setbacks, encloses an exhibition area, the cafeteria-restaurant, a multipurpose hall and a museum. The pavement of black quartzite extends beyond the glass to define a covered platform to take in visitors.

The last level is restricted to the staff and scientists of the Council: the library, the research areas, the laboratories and the administration area are laid out in a box of cor-ten steel extracted from the facade and softly 'moved' towards the outside. Inside, the premises have been organized in two longitudinal bands: the one closest to the garden, with an open-plan and solved with two pillars clad in birch, is illuminated through the iroko-framed windows along the entire facade; the other, towards the slope and divided up by the concrete walls that go through the building, is also bathed by southern light that comes in through thin windows cut out from the concrete above the box.
Cliente Client
CSIC, Ayuntamiento de Barcelona
Arquitecto Architect
Carlos Ferrater
Colaboradores Collaborators
Joan Guibernau, Elena Mateu
Contratista Contractor
Contratas y Obras
Fotos Photos
Alejo Bagué