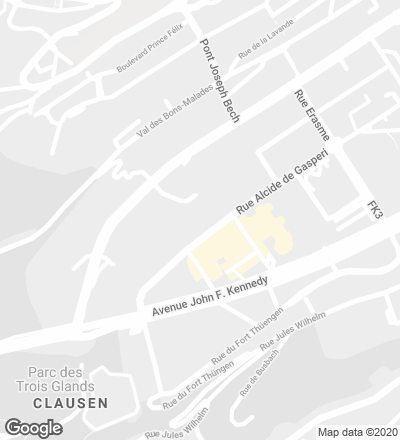 Towards 1960, the Kirschberg plateau was practically a desert, separated from the old city of Luxembourg by the valley of L'Alzette. Like a large clearing in the heart of Grünewald forest, its image was marked by the even extension of the harvested field, only interrupted by the paths leading to the urban center. Today the plateau has become a large built complex. It is there that the city is building, among other things, a museum, a large auditorium and a chamber of commerce and industry. The site also hosts important European institutions, especially since the enlargement of the Union to new states. Dominique Perrault, commissioned to upgrade the European Communities Court, is one of the prominent architects who have intervened in the site.
The brief entailed unifying and extending a set of three existing buildings, the oldest of which was raised in 1973, with others dating from extensions carried out in 1988 and 1992. On the seven-hectare site flanked by main roads, these successive interventions have formed a disparate and scattered set, obeying different scenographies and done in styles that very nearly clash. Besides federating and enlarging, Perrault's task consisted foremost in reasserting the prestige of the Court complex, by focusing attention on it and diffusing its concentrated energy in a crown that extends the most significant levels of the original core.
Then, in the main court building the hearing rooms articulate around a monumental stair. Next came the laying out of a spacious forecourt to the north, in order to create a main access point for pedestrians and automobiles, via a large porch under the crown to the hearing rooms. This sequence of public spaces is protected from wind and weather, but preserves the views, which reach the exterior, the city and the forest. Last up is the construction of two towers destined to house the thousands of civil servants that keep the Court running.
The intervention is not conceived just as a new addition – the fourth element of an existing set of three – but an 'injection' that proclaims the primacy of linking over juxtaposition, and of unification over densification. A unity that proceeds notably from the use of an anodized aluminum mesh, between brass and bronze, handled in 'sun-fold' for the two towers and in long 'skirts' for the judges' building, where it falls from the golden crown down to the base.
Cliente Client
Administration des Batiments Public; La Cour de Justice Europeene (Luxemburgo)
Arquitectos Architects
Dominique Perrault Architecture (autor de proyecto project author); Paczowski & Fritsch architectes, m3 architectes (arquitectos asociados associated architects)
Colaboradores Collaborators
Gaëlle Lauriot-Prévost (dirección artística artistic direction), Guy Morisseau (estructura structural engineering), Thomas Barra (jefe de proyecto project manager), Mark Marten (jefe de proyecto de fachadas facade project manager), Mariette Baly, Veronique Bous, Matthias Brünjes, Charley Cloris, Ursula Dick, Carlos Esteves Duarte, Julien Fuentes, Stephanie Grandajacques, Madeleine Hadrich, Florian Hartmann, Nanako Ishizuka, Anne Kaplan, Pascal Legrand, Georges Marinho, Yvonne Meschederu, Rene Neuer, Susanne Nipp, Wolfgang Niegemann, Fabrizio Raspanti, Jérôme Santel, Jérôme Thibault, Marie-Pierre Vandeputte, Dieter de Vos
Consultores Consultants
Perrault Projets (ingeniería arquitectónica architectural engineer); Rache-Willms, Marion Consulting (fachada facade consulting); Geprolux SA (coordinación de proyecto project manager); Jean-Paul Lamoureux (acústica e iluminación acoustics & lighting); Gehl, Jacoby & Associés, Schroeder & Associés, TR-Engineering (estructura structural engineer); Felgen & Associés, Bevilacqua & Associés (electricidad?electric engineer); Jean Schmit Engineering (control climático heating engineer); RMC-consulting (saneamiento plumbing engineer); Cabinet Casso et cie (seguridad security); Secolux, AIB Vinçotte (control code and regulations control);
Fotos Photos
Christian Richters, Georges Fessy