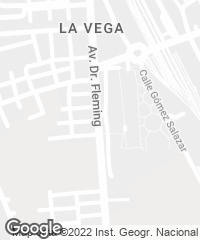 Ten years after the French architect won the first prize in the architectural competition called by the Town Hall, the construction of the Convention Center and Exhibition Hall of León is now reaching its final stages. The project is a key urban intervention in the development of León, and addresses the recovery of the neighborhood of La Vega and its integration in the city fabric. The program includes a Convention Center, which takes up the main building of the old sugar refinery of Santa Elvira, and an Exhibition Hall, with an area of 10,000 square meters dividable into three spaces, and with a huge metallic roof that defines the new urban image of the city.
The project comprises two complementary spaces: the Exhibition Hall – a multipurpose space under a large faceted metallic roof – and the Convention Center – which includes the conversion of the old Santa Elvira sugar factory.
With a total useful area of 10,000 square meters, the Congress Center is designed to adapt to different configurations, depending on the type of event to be held, with the possibility of opening up to the outdoor plaza.
The new center limits the use of non-renewable energies thanks to an isolated and ventilated photovoltaic roof, and to a facade fit out with intelligent solar protection. Rainwater is collected in deposits placed in the building's basement.
Part of the metallic structure of the old sugar factory will be reused in the construction of the new Convention Center, which will feature an auditorium with capacity for 1,200 people, meeting rooms, exhibition galleries, offices, etc.
The roof has three layers – the photovoltaic modules, the deep structure, and the interior finish – which help to control temperature inside the building and manage to collect the same amount of energy that 152 housing units of 100 m² would use...[+]
Cliente Client
Ayuntamiento de León León Town Hall
Arquitecto Architect
Dominique Perrault
Dirección artística Art Direction
Gaëlle Lauriot-Prevost
Dirección de obra Project Architect
Dolores Ruiz Lozano, Juan Fernández Andrino
Equipo de proyecto Project Team
Ricardo Lorenzana Fuciños, David Chinea
Equipo de concurso Competition Team
Ricardo Lorenzana Fuciños, Juan Fernández Andrino, Yves Moreau, Cyril Lancelin, Caroline Nachtigall-Marten, Takayuki Kamei, Roger Orriols Gil, Sergio García-Gasco Lominchar, Beatriz Martínez Fernández Maqueta Model
Perrault Projets
Croquis Sketches
Dominique Perrault / Adagp
Imágenes y dibujos Images and drawings
Dominique Perrault / Adagp
Fotos de maqueta Model pictures
André Morin-Dominique Perrault / Adagp
Fotos Photos
Ayuntamiento de León; Dominique Perrault / Adagp; Joaquín Mosquera - Dominique Perrault / Adagp