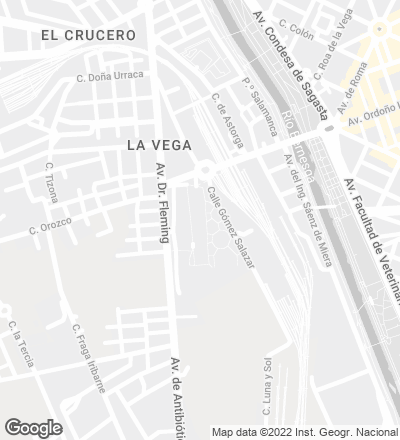 The Santa Elvira sugar refinery was, since the early 20th century until its closing in 1992, one of the key economic motors of the city. The site where the old factory building was located was the place designated for the construction of the new Convention Center and Exhibition Hall of León, a key urban intervention in the city. The winning project in the competition held in 2005 included not only the refurbishment of the main building as congress center, but also the construction of an adjoining new volume for exhibitions. The proposal also recovered a smaller structure known as El Palacín, adapted for restaurants, offices, and smaller exhibitions.
Aside from the Exhibition Hall, now completed, the project also includes the conversion of the old sugar refinery into a Convention Center. The aim is to reactivate the old industrial area by connecting it to the city. 
The intervention was developed as part of a series of operations aimed at promoting the development of La Sal quarter and connecting the industrial area west of Bernesga – historically isolated by the railway tracks running parallel to the river – with the urban center. The program proposed included a large auditorium for 1,200 spectators and a total exhibition area of 10,000 square meters. The buildings, all three with flexible interiors and easily dividable, were set out as adaptable spaces for different needs.
The building becomes a unique urban landmark thanks to its monumental photovoltaic roof that  also collects rainwater and whose origami-like volume rests on large metallic supports with a tree-like profile. 
The renewed ensemble was therefore conceived as a unique 'lit up factory' able to dynamize the city's cultural scene. At this moment El Palacín – completed in 2011 – and the Exhibition Hall are both running, and part of the urban development of the surrounding public space is also finished, helping to connect the site with the nearby AVE train terminal.
Built in steel and glass, the Exhibition Hall features solutions for the production of renewable energy and energy-efficiency systems. The extensive faceted roof – with mineral folds evocative of León's mountainscape – is built with metallic trusses, structural elements used also to shape six support points resembling large tree groves. On the outside the building is covered with around 4.000 photovoltaic panels to reduce the energy needs of the building, which also includes a system for the recovery, storage, and treatment of rainwater that provides for 70% of the hot water needed. Furthermore, the facade is built with a high-performance double glass skin with a ventilated chamber where motorized blinds are placed, reducing energy use by one third compared to the traditional single-layer facade finish.
Cliente Client
Ayuntamiento de León
Arquitectos Architects
Dominique Perrault Architecture
Colaboradores Collaborators
Gaëlle Lauriot-Prévost (dirección artística art director); Juan Fernández Andrino, Ricardo Lorenzana, Dolores Ruiz (jefe de proyecto project manager); David Chinea, Takayuki Kamei, Cyril Lancelin, Yves Moreau, Caroline Nachtigall-Marten (equipo project team); Juan Fernández Andrino, Dolores Ruiz Lozano / DPA Madrid (dirección de obras site management); Begoña Gonzalo Orden (arquitecto municipal client architect); Pedro García Fierro (aparejador municipal client quantity surveyor)
Consultores Consultants
Jesús Jiménez Cañas y Asociados (ingeniería de estructuras structural engineering); Typsa (instalaciones mechanical engineering); Arcadio Conde Macías, Julio Macías Rubio (aparejadores quantity surveyors); Jean-Paul Lamoureux (ingeniería acústica acoustics engineering)
Superficie construida Floor area
23.016 m²
Presupuesto Budget
30.493.553 € (PEM)
Fotos Photos
Joaquín Mosquera