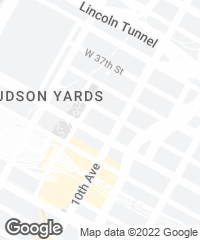 Located at the intersection of the High Line and Hudson Boulevard on Manhattan's new western frontier, the project extends the green space of the old train tracks in a spiraling motion towards the sky.
The 306-meter-tall construction is a unique hybrid that intertwines a visually continuous green pathway with workspaces on every level. The spiral chain of amenity spaces and terraces originates at the main entrance – at the corner of 34th Street and Hudson Boulevard – and wraps around the tower, which gradually becomes slimmer towards the top, creating unique floor configurations that will cater to a diverse community of tenants and thus making the building a lively and inviting place for businesses of different scales.
The Spiral sets a new standard for the workplace, where nature becomes an integral part of the work environment while spatial features are always adaptable to the changing needs of tenants and their organizations. The stepped form of the building evokes New York City's classic ziggurat-shaped skyscrapers at the same time that its innovative design puts it at the forefront of contemporary architecture, on a path to becoming a classic in the Manhattan skyline.
Cliente Client
Tishman Speyer
Arquitectos Architects
BIG-Bjarke Ingels Group.
Socios responsables Partners in charge
Bjarke Ingels, Daniel Sundlin, Thomas Christoffersen
Gerente de proyecto Project manager
Nicholas Potts, Carolien Schippers
Diseño del proyecto Project designer
Dominyka Voelkle, Jennifer Wood
Arquitecto de proyecto Project architect
Armen Menendian
Director técnico Technical director
Douglass Alligood
Equipo de proyecto Project team
Lucio Santos, Adam Sheraden, Adrien Mans, Agla Sigridur Egilsdottir, Ali Chen, Alvaro Velosa, Andrew Lee, Anton Bashkaev, Armen Menendian, Beat Schenk, Benjamin Caldwell, Benjamin Johnson, Brian Rome, Cadence Bayley, Carolien Schippers, Cheyenne Vandevoorde, Christopher David White, Christopher Tron, Daniel Sundlin, Daniele Pronesti, David Brown, Davide Maggio, Deborah Campbell, Denys Kozak, Dominyka Voelkle, Dong-Joo Kim, Douglass Alligood, Dylan Hames, Erin Yook, Florencia Kratsman, Francesca Portesine, Gabriel Jewell-Vitale, Gabriella Den Elzen, Gaurav Sardana, Haochen Yu, Hung Kai Liao, Ibrahim Salman, Jack Lipson, Jan Casimir, Jan Leenknegt, Janice Rim, Jennifer Wood, Joshua Burns, Josiah Poland, Juan David Ramirez, Julie Kaufman, Kai-Uwe Bergmann, Ku Hun Chung, Kurt Nieminen, Lasse Kristensen, Lawrence Olivier Mahadoo, Lisbet Christensen, Lucio Santos, Luke Lu, Mackenzie Keith, Manon Otto, Margaret Tyrpa, Maria Eugenia Dominguez, Martynas Norvila, Mateusz Rek, Maureen Rahman, Megan Van Artsdalen, Michael Zhang, Nicholas Potts, Otilia Pupezeanu, Pantea Tehrani, Peter Lee, Phawin Siripong, Rachel Coulomb, Rune Hansen, Ryan Duval, Sarkis Sarkisyan, Seoyoung Shin, Simon David, Simon Lee, Simon Scheller, Stephen Kwok, Terrence Chew, Thea Gasseholm, Thomas Christoffersen, Tracy Sodder, Ute Rinnebach, Veronica Acosta, Veronica Moretti, Wells Barber, Will Fu, Yaziel Juarbe, Yenhsi Tung, Zoltan David Kalaszi, Lauren Connell, Kelly Neill, Emily Chen, Giulia Frittoli, Varat Limwibul, Tore Banke, Kristoffer Negendah
Colaboradores Collaborators
Adamson Associates, Wsp Cantor Seinuk, Cosentini, Edgett Williams Consulting Group, Heintges, Neoscape, Pandiscio, Squint Opera, Big Ideas