L'Atlàntida Theater, Vic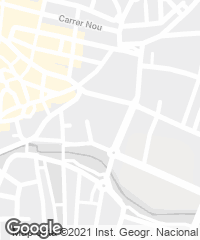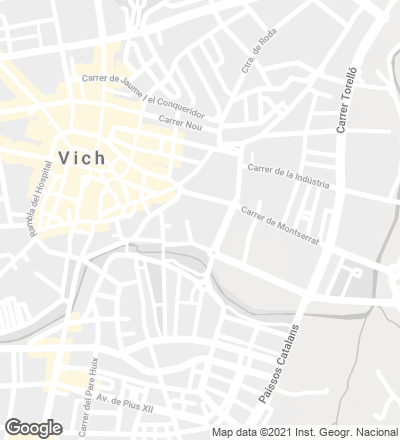 The project addresses the peculiarities of both site and program. Regarding the site, it  goes up on the edge of the established city and the future expansion areas. The transition from one type of fabric to another is articulated by a strip of natural terrain divided by the Méder River. On the northern edge, the old city is formed by courtyards connected to the rear facades of buildings among party walls.
Among them is Can Serratosa, current headquarters of the Vic School of Music, which will house communal spaces in the new school. This building has a side passageway that permits direct access from the street to the site, a very important aspect in the development of the proposal. The southern boundary, on the contrary, is only one property line without real consistency, which has to be blurred to extend the unbuilt site with the green of the riverbank.
The project makes the most of the side path of the school of music to articulate two well differentiated areas: the built-up fabric in the north, formed by building courtyards among party walls, and in the south, the green spaces onto the Méder River. 
The program has very different parts: theater, auditorium, services, school of music and restaurant. While the theater and the auditorium are large-scale pieces that do not need natural light, the school of music is the repetitive addition of small units that do demand natural light and ventilation. The theater, for its part, stands out for the height of the stage box, the volume of which will become a visual reference of the complex in relationship to the city and its nearby environment.
The project follows a series of objectives: the first one, to conceive the new building as a structure that is part of the city and, in contrast, to connect the free space to the natural territory organized by the riverbank. Secondly, it tries to use project systems able to address with the same tools – relationship with the ground, geometry and roofs – the very different pieces that in terms of use and scale define the program, and that can manage to include the volume of the stage box in the rules of the system used.
Thirdly, the use of a path that leads from Can Serratosa to the open space as vertebrating element that situates and gives access to all the parts of the program, and the use of a sloping roof, that from the upper level of the stage box descends and unfolds to cover porches and classrooms. Lastly, the list of materials used – exposed concrete, basalt and lacquered aluminum –, is extended in the stage box and the school with a metallic cladding, a copper and aluminum alloy, which directs the gaze towards the skyline of the complex and from there to that of the city of Vic.
With an area of 10,500 square meters, the program includes three parts: theater, auditorium and school of music; all of them are brought together under a colossal faceted roof that unifies the different activities. 
Cliente Client
Ajuntament de Vic. Departament d'Urbanisme i Medi Ambient, Serveis i Barris
Arquitecto Architect
UTE Llinàs-Llobet-Ayesta-Vives: Josep Llinàs (director main architect), Josep Llobet, Pedro Ayesta, Laia Vives (asociados partners)
Colaboradores Collaborators
Miquel Autet (arquitecto técnico quantity surveyor), Jorge Martín (arquitecto colaborador architect), Iván Andrés, Andrea Tissino, Philipp Gasteiger, Fermín Garrote, Iñaki Arbelaiz, Petra Pferdmenges, Natzarena Manenti, Aina Solé (equipo de proyecto project team)
Consultores Consultants
Bernuz-Fernandez Arq S.L (estructuras structures), GPO Ingeniería, S.A (instalaciones mechanical engineering), Audioscan S.L. (acústica acoustics), OTTO projectes S.L (escenotecnia)
Contratista Contractor
FCC Construccion
Fotos Photos
Duccio Malagamba, FCC