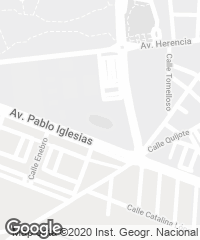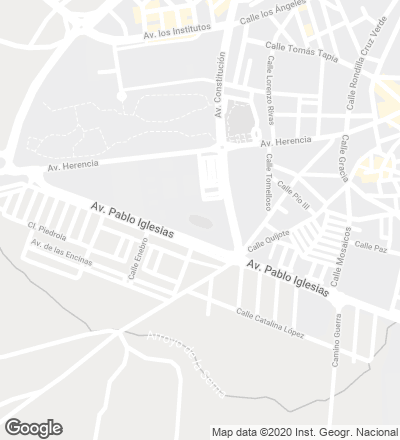 With capacity for two thousand spectators, the new sports center of Alcázar de San Juan aims to become a facility able to operate on a both local and regional level. The project seeks balance between the orthogonal building system, which admits prefabrication, and a sinuous enclosure that blends smoothly with its environment.
In the first place, it intervenes on the existing topography, perforating the plot in an east-west direction to place the track field below grade. This reduces the visual impact of the building as well as its exposure to sunlight, therefore improving its bioclimatic behavior. Over the void of the terrain, four concrete piles support two large frames and these support, perpendicularly, a system of metallic beams bound by a curved tie-beam. The hierarchy and size of the building elements is concealed behind an interwoven roof that indirectly and zenithally illuminates the field and the stands.
On a crack carved out of the ground, the pavilion is built following a modular structural system, with a markedly orthogonal geometry, which contrasts with the sinuous forms of the curved and lightweight enclosure. 
The interplay of solids and voids blurs the repetitive character of the structural framework and brings out a textile quality that is conveyed to the building's envelope. The facade, which for its permeability acts as a visual and climatic filter, hangs from the edge of the roof and takes on a structural role. The weight of the enclosure, under traction, balances the bending moments and counteracts the span of the beams, which permits reducing the weight of the main structure. Following a zigzagging pattern, laminated wood elements configure the curved latticework that wraps the building. This avoids imposing a hierarchical order on the facades and stresses the features of the landscape, naturalizing the relationship of the pavilion with its context.
The prefabricated and repetitive character of  the construction elements is concealed behind an enclosure that combines clear and opaque surfaces, and that fills  the pavilion with top  and indirect light. 
The facade, consisting of laminated wood studs coated with white tinted wash, hangs from the perimeter of the roof functioning as a counterbalance and improving the structural behavior of the complex. 
Built independently, the stands rise over a series of concrete corbels that free up the ground floor. On the east-facing side, the plinth under the seats is enclosed with glass panels, establishing a visual connection between the field and the outdoors, whereas to the west the space between structural ribs accommodates service rooms, installations and dressing rooms. Thanks to the cut in the ground, the central space can be used uninterruptedly with the gardened slopes, favoring functional flexibility, marking out the circulation paths, and generating accesses on different levels. The result is a permeable architecture, where a variety of events can be held, and which underscores the public and collective nature of the complex.
Cliente Client
Ayuntamiento de Alcázar de San Juan, Ciudad Real, Castilla-La Mancha
Junta de Comunidades de Castilla-La Mancha
Arquitectos Architects
Begoña Fernández-Shaw Zulueta, Luis Rojo de Castro
Rojo/Fernández-Shaw, architects
Colaboradores Collaborators
Jaime Santos (aparejador quantity surveyor)
Consultores Consultants
Alfonso Gómez-Gaite (ingeniero de estructuras structural engineering); Úrculo Ingenieros (ingeniero ambiental environmental engineering)
Contratista Contractor
UTE Huicesa/Castiblanquez, Gracia Castejón Constructores; Anro (estructuras metálicas metal structures); Strumaher (muros cortina curtain walls); Mondo (pavimentos y material deportivo pavement and sports equipment); Italfilm (mallas metálicas metal mesh); Alexma (electricidad electrics); Maroto/Clima (clima, energía solar y control air-conditioning, solar energy, control); SGS (control de calidad quality control)
Superficie construida Floor area
8.791,50 m²
Presupuesto Budget
10.980.000 euros
Fotos Photos
Joaquín Mosquera (www.idearch-studio.com), Rojo/Fernández-Shaw