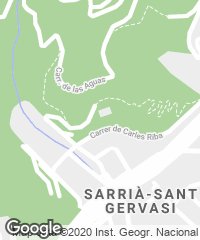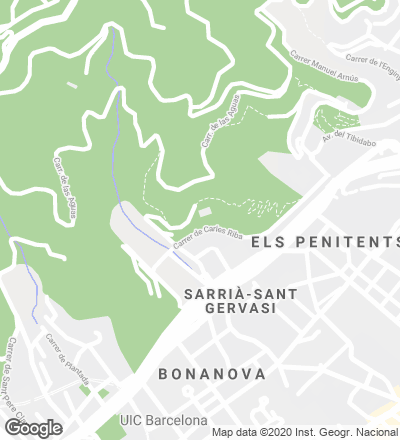 Sant Gregori school lies on the hillside of Collserola, on terraces carved out of the ground. Since it was built in 1972, it was necessary to carry out some refurbishments to adapt the building to the current codes regarding accessibility, evacuation and services. Furthermore, the renovation project also included the construction of an underground parking, six kindergarten classrooms, six classrooms for elementary school students and a school of music, rounded off with a multipurpose hall with capacity for 300 people.
The new volumes had to be set back to comply with the urban codes, and had to take up just the minimum natural space of the plot without extending to the higher levels These requirements and the will to reduce the global impact of the intervention turned the project into an operation of emptying out and putting together the new pieces, and also one aiming to make the most of the roofs, so that the space subtracted from the plot would be recovered with playground areas that would allow separating the children by ages.
The school had an outdoor reception space with three pine trees, an area which has been maintained and stressed. North of this space and replacing the first terrace on which the school rests, a new partially buried control and reception area allows connecting with the old building on street level. To the east is the multipurpose hall whose roof serves as basketball court. Lastly, the court of access limits to the west with the stands-steps, which are positioned along the axis of the multipurpose hall. The large sliding door of the hall can be opened to create a sort of agora beneath the pine trees, a meeting place of changing character.
The remaining volumes are placed to the west, rebuilding the profile of the carved mountain with their setbacks and staggered configuration, and creating playground-terraces and linking up with the old school to facilitate evacuation. The kindergarten classrooms are located on ground level and the elementary school ones on the first floor, defining a plinth characterized by the use of a pine wood latticework. On top of this plinth is the school of music; a displaced volume of two floors clad in anthracite zinc. The new roofs are finished in green, connecting all the spaces lengthwise to generate a free-flowing complex. For its part, the southern facade of the ground and first floor are protected from sunlight by cantilevers or by the wood latticework. 
Cliente Client
Fundació Sant Gregori
Arquitecto Architect
Jaime Coll, Judith Leclerc
Colaboradores Collaborators
Marta Velez, Gonzalo Cantos, Irene Gil, Carlos Carnicer, Gaietà Mestieri, Narcís Font, Cristian Vivas
Consultores Consultants
Bis arquitectes (estructura structure); AJ Enginyers (instalaciones mechanical services); Jordi Carbonell (presupuesto budget); ADS (certificación energética energy efficiency)
Contratista Contractor
ACME
Fotos Photos
José Hevia