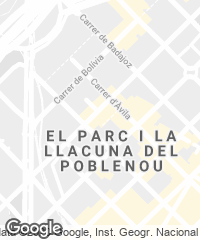 This residential development is located close to the transportation hub of Les Glòries – currently under construction and set to become a space for people, as well as a large green lung for the city of Barcelona. Coll-Leclerc's project proposes an innovative residential model in tune with this urban renovation process, combining two types that are usually built separately: 47 social housing units for rent and 20 temporary dwellings for people at risk of social exclusion. The construction of this housing project contributes to creating a stable urban fabric and to revitalizing a changing environment by opening up an interior street that divides the volumes into two halves, and that is conceived as an open urban space. The collective facilities located at street level, such as the cafeteria, seek favoring social interaction.
The building combines subsidized apartments for rent and temporary housing for vulnerable groups. It has been designed and organized applying bioclimatic design criteria and energy efficiency systems. 
The complex consists of three volumes connected by corridors and stairs. The south and west blocks contain the social housing units, and are accessed from Carrer de Tànger in the north block of the temporary dwellings, which are accessed from the interior corridor. All the residential units are designed with the same comfort standards, and have the same qualities, with no differences in orientation or sun exposure, so the temporary housing block can be adapted to a different kind of program in the future.
To reduce energy consumption, the residential complex features different passive bioclimatic strategies that give priority to natural ventilation and control of sunlight depending on the season. During the cold months, the winter gardens placed next to the living rooms collect energy gradually throughout the day, and release it little by little in the afternoon, managing to cover 23% of the heating demand in winter. In the summer, the winter cross ventilation of the winter garden and its daytime solar protection with Persian blinds covers 43% of the cooling demand. Besides, as much the dimensions and the distribution of the openings and ceramic latticeworks responds to a detailed study of the sunning conditions of the site. The strategies are complemented with highly efficient mechanical systems such as aerothermia and heat recovery through dual flow ventilation. Thanks to these operations, the building obtained the highest energy rating.
Cliente Client
Patronat Municipal de l'Habitatge de Barcelona
Arquitectos Architects
Coll-Leclerc - Jaime Coll, Judith Leclerc
Colaboradores Collaborators
Marina Povedano, Albert Sabas, Anna Sala, Noemi Martínez, Ramon Villalta, Narcís Font, Inés Alomar, Carla Blanch
Consultores Consultants
JSS (instalaciones mechanical engineering); Alex Ivancic (sostenibilidad sustainbility); M. Arguijo (estructuras structures); Angela Vidal (dirección técnica technical direction)
Contratista Contractor
Guinovart & OHL
Superficie construida Floor area
5.525 m²:
(1.137 m² alojamientos temporary housing + 3.472 m² viviendas apartments + 761 m² aparcamiento?parking)
Presupuesto Budget
4.716.613 € (sin IVA without VAT); 853 €/m²
Fotos Photos
Roland Halbe