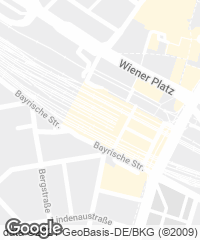 Dresden's main railway terminus is one of the largest and most impressive late-nineteenth-century railway stations in Europe. Built in 1898, the railway played a significant role in the city's industrial and economic growth, linking Dresden with Berlin and Prague. In 1945, however, when much of the old city was destroyed in Allied bombing raids, the station building was severely damaged, but it was still one of the few major buildings that survived. After the war, insensitive reconstruction was compounded by poor maintenance and inappropriate repair work, the building finally reaching a state in the late 1990s where a comprehensive programme of remedial conservation was required in order to restore the station to its former grandeur.
The starting point was to strip away the miscellaneous additions and alterations that had been made to the building over the previous sixty years in order to restore the integrity and clarity of the original design. This included pulling back the termination point of the central tracks to create an open space at the heart of the building, which can be used as a market place or for cultural events. In the process, public circulation within and through the station has been transformed. By far the largest new element is the 29,000-square-metre covering to the three vaulted roofs above the platforms. Originally, these roofs were partially glazed, but after the war the entire surface was boarded over. The station's elaborate wrought iron structure has been restored and covered in a taut skin of Teflon-coated, glass-fibre fabric. The roof fabric transmits 13 per cent of daylight, which significantly reduces the need for artificial lighting. After dark, artificial light is reflected off the underside of the canopy to echo the effects of daylight washing the concourse. If required, this canopy can be extended to provide cover for international high-speed trains (ICE), which are twice the length of the old station platforms.
Externally, the most striking new element is the 34-metre high square glass dome, inspired in the original one, which sits above the main circulation crossing. The approach followed here – and throughout the building – is similar to that explored at the Reichstag. The surviving structure and original surfaces have been exposed wherever possible, but there has been no attempt to recreate old forms or replace lost ornament: new and old are clearly articulated.
Cliente Client
Deutsche Bahn AG Station & Service
Arquitecto Architect
Foster + Partners
Consultores Consultants
Buro Happold (estructura structural engineering); Schmitt Stumpf Frühauf und Partner, BAL GmbH (aparejador quantity surveyor); Schmidt Reuter Partner (instalaciones M+E engineering); Claude Engle, Speirs, Zibell Willner & Partner, Kaiser Baucontrol, adb, Homola
Fotos Photos
Nigel Young / Foster + Partners; Reinhard Görner; Hufton + Crow / View