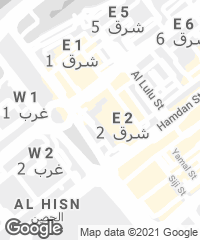 The historic Abu Dhabi Central Market is one of the oldest sites in the city. Inspired by the traditional architecture of the Gulf, this scheme aims to reinvent the marketplace as a contemporary mixed-use complex and give the city a new civic heart. By proposing an alternative to the globalized 'one-size-fits-all' shopping mall, it offers a distinctive modern interpretation of regional vernacular construction, and in it, as in the traditional souk, different kinds of experiences – ranging from luxury goods shops to food markets and craft-based trade stores – are combined in an interior architecture with a changing rhythm of squares, courtyards and alleyways succeeding one another amid vibrant colours, running water and dappled sunlight.
Rising above this dense, close-grained 'mat' are three towers, each with a separate address, which vary in height and bulk, depending on whether they contain offices, residences or a combination of a hotel and serviced apartments. Visually they form a family, with smooth reflective facades designed to need little maintenance in this dusty desert environment. To maximise the ground plane, the towers are grouped close together, but spaced sufficiently apart to guarantee privacy and views. The effect is a harmonious cluster, a symbol for this central site and a new landmark and reference in the Abu Dhabi skyline.
The development was designed with a strong sustainable agenda, with layers of internal shading on the towers to control glare and regulate solar gain. Continuing the characteristic greenery of Abu Dhabi, the site is generously landscaped, with the roofs of the lower buildings forming a series of terraced gardens. For four months of the year the climate and temperature in the region are very pleasant, comfortable enough to stroll around and sit outdoors. This has inspired a sequence of public pedestrian routes and spaces in which barriers between inside and outside are dissolved. Cooling naturally when conditions allow, for the remainder of the year these spaces can be closed up with roofs or walls that slide into place when it becomes necessary for the interior environment to be more closely controlled. The perforations in the roof and interior panels continue outside, wrapping the podium building in a textured facade. The design of the panels is based on octagonal forms, which reference both traditional zellij tilework and more recent research into mathematical geometry.
Cliente Client
Aldar Properties
Arquitecto Architect
Foster + Partners
Colaboradores Collaborators
Planar
Consultores Consultants
Halvorson and Partners (estructura structural engineering); EC Harris International (aparejador quantity surveyor); BDSP Partnership (instalaciones M+E Engineering); DPA Lighting Consultants, Lerch Bates and Associates, Warrington Fire, Emmer Pfenninger and Partners, Systematica
Fotos Photos
Nigel Young / Foster + Partners; Foster + Partners