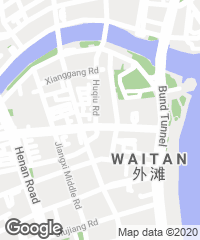 Following the establishment of international trading relations in 1842, with the Treaty of Nanking, Shanghai became a major East Asian commercial and cultural center. The arrival of European businesses and consulates influenced architecture in the early 20th century, giving rise to a peculiar Art Déco style characterized by a mix of West and East. Examples abound along the Bund, on the west bank of the Huangpu River.
The Rockbund Project, which includes a diversity of colonial buildings, is an operation being carried out by a team of international practices to revitalize the urban fabric of the northern part of the Bund through the construction of offices, hotels, apartments, and retail spaces. This is the context in which David Chipperfield Architects was commissioned in 2006 to restore and convert eleven buildings dating back to the period between 1897 and 1932.
The facades were given a thorough cleaning and repair without destroying historical elements and the original masonry. The idea was to give the buildings the dignity they had lost over the years. Efforts were also made to return structures to their original states as much as possible, and this meant removing some of the subsequent additions and modifications. But the most important intervention was on the old Andrews & George Building, renamed Rockbund 6, a three-story construction on which eleven floors will be stacked.
The extensions to the National Industrial Bank (NIB) and the Royal Asiatic Society (RAS) can be seen from Museum Square, a courtyard located southwest of the area of intervention. The new facades of both volumes have been rendered with 'Shanghai plaster,' with the same quality of finishes that the neighboring buildings present. The former RAS Building, once China's first public museum, now houses the Rockbund Art Museum, whose collection focuses on contemporary art. In the renovated Art Déco building, a sequence of flexible spaces can take in objects of different sizes and display a large variety of artistic expressions, especially in the atrium that connects the various floor levels.
The complex has been going up in phases: the museum opened coinciding with Expo 2010 Shanghai, and restoration of the historical facades was done by 2011. The whole Rockbund Project will be accomplished with the completion of Rockbund 6 in 2019.
Obra Work
Rockbund Project & Rockbund Art Museum
Cliente Client
Shanghai Bund de Rockefeller Group Master Development Co. Ltd.
Arquitectos Architects
David Chipperfield Architects Berlin & Rep. office Shanghai; David Chipperfield, Mark Randel (director de diseño design lead) —socios?partners—; Libin Chen (representante principal main representative), Lutz Schütter, Thomas Spranger, Chuxiao Li, Thomas Benk (arquitectos de proyecto project architects), Markus Bauer, Kamlesh Bava, Mirjam von Busch, Belinda Chan, Andrea García Crespo, Maryla Duleba, Maik Engler, Dirk Gschwind, Michael Haverland, Frithjof Kahl, Fabian Körner, Nicolas Kulemeyer, Maoxue Li, Dahlia Liksaite, Fernando Gomez Martinez, Adrian Peach, Ilona Priwitzer, Martin Reichert, Mariska Rohde, Fransziska Rusch, Gunda Schulz, Lijun Shen, Daniel Sommer, Daniela Voss, Jiaying Wang, Boris Wolf, Liping Xu, Jiacong Yang (equipo project team)
Colaboradores Collaborators
China Construction Design International (instituto de diseño local, nuevos edificios local design institute, new buildings), Shanghai Zhang Ming Architectural Design Firm (instituto de diseño local, edificios históricos local design institute, historic buildings); Brandston Partnership, Schlothfeldt Lichtplaner (iluminación lighting consultant); Levin Monsigny Landschaftsarchitekten (paisajismo landscape)
Fotos Photos
Christian Richters, Simon Menges