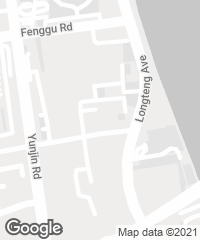 The West Bund Museum is a major new art gallery on the northern bank of the Huangpu River, and forms a key part of the West Bund Master Plan, which envisages a new cultural district on former industrial land.
The museum occupies a triangular plot at the northernmost tip of a new park, at the point where Longteng Avenue and the river converge. The building consists of three gallery volumes placed around a central lobby with a triple-height atrium. This configuration allows for different components of the museum to operate independently. The lobby is accessed from Longteng Avenue to the west and from the riverside to the east. The latter offers two entrance options: the visitor can either descend into a sunken courtyard or climb a set of stairs to arrive in the central lobby, both giving access to the main gallery spaces. The atrium remains below the roofline of the major volumes and cantilevers towards the river and the road. At either end, the roof is supported by a colossal tapering column that draws attention to the entrances.
Glass lends the volumes an opaline quality that is iridescent during the day and prismatic at night, with large windows at the outer ends of the galleries offering panoramic views of the city. 
Obra Work
West Bund Art Museum
Cliente Client
Shanghai West Bund Development Group Co. Ltd.
Arquitectos Architects
David Chipperfield Architects Berlin & Shanghai; David Chipperfield, Libin Chen, Mark Randel, Martin Reichert, Alexander Schwarz (director de diseño design lead) —socios?partners—; Diana Schaffrannek, Chuxiao Li, Haishan Li, Qianqian Zhang (directores de proyecto project architects), Alexander Bellmann, Tianyuan Fan, Annette Flohrschütz, Manus Leung, Haishan Li, Han Li, Yuchen Li, Huiqun Liu, Peter von Matuschka, Franziska Michalsky, Stuart Rennie, Johanna Schmal, Gunda Schulz, Lijun Shen, Eva-Maria Stadelmann, Peggy Wong (equipo de proyecto project team)
Colaboradores Collaborators
Shanghai Urban Architectural Design (instituto de diseño local local design institute); Arup Deutschland, & Arup International Consultants Shanghai (estructura structural consultant); Shanghai Urban Architectural Design (ingeniería estructural structural engineer); WSP (instalaciones services consultant); Shanghai Urban Architectural Design (instalaciones services engineer); Drees & Sommer Engineering Consulting (fachada facade consultant); Levin Monsigny Landschaftsarchitekten, Beijing Orient Landscape (paisajismo landscape architects)
Fotos Photos
Simon Menges
Imágenes Visualisations
David Chipperfield Architects