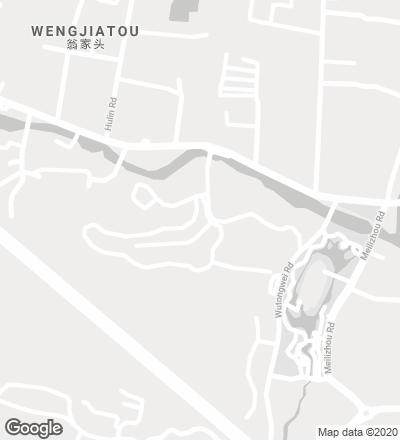 The museum, which will house a collection of archaeological findings from the Liangzhu culture (c. 3000 BC), is named after the place where this civilization was first discovered in 1936, in the Chinese province of Zhejiang. The Liangzhu culture is a late Neolithic Chinese culture, well known for its vast legacy of jade objects and black-based and black-burnished pottery, both easily distinguishable thanks to their remarkable style, high quality and the delicate technique used to make them.
The museum, of 9,500 square metres, is located at the northern end of a park in which the most prominent feature is the presence of water. To the west, the softly moulded park landscape with its widening stream leads up to the museum situated on a hill. The sculptural quality of the building, situated in the artificial topography, reveals itself as the visitor approaches the museum via the road or by foot through the park landscape. The museum is entered via a bridge leading from the car park to the entrance courtyard.
The museum is composed of four bar-formed volumes. These volumes all have the same width – 18 meters – but differ in height, emerging as a sculptural form visible from the outside. Courtyards are inserted into each volume. These courtyards are a part of the tour route and function as joints, linking the different exhibition halls. The landscaped interior courtyards, which are used as naturally lit circulation spaces and places to linger, provide a high degree of complexity for possible individual tour routes through the museum, despite the linearity of the museum halls. To the south of the museum there is an island with an exhibition area, linked to the museum building via a bridge.
The permanent collection and temporary exhibits are accessed separately via the entrance hall. The edge areas will be planted with dense woods in the direction of the existing buildings, thereby leaving open only a few guided views of the landscape and park.
The travertine marble from Iran and the white parging are, along with the glass surfaces, the main protagonists of the building's construction. The smooth texture of the cream-coloured marble evokes the petreous sheen of the jade pieces kept in the museum, and at the same time gives the complex a solid and hermetic presence, nuanced by the layer of water and in contrast with the open character of the interior courtyards.
Cliente Client
Narada Real Estate
Arquitectos Architects
David Chipperfield Architects
Colaboradores Collaborators
Libin Chen, David Chipperfield, Annette Flohrschütz, Marcus Mathias, Mark Randel, Christof Piaskowski, Alexander Schwarz
Consultores Consultants
Levin Monsigny Landschaftsarchitekten (paisajismo landscape design); ZTUDI The Architectural Design and Research Institute Zhejiang University of Technology (estructura, instalaciones structural engineer, services engineer)
Fotos Photos
Christian Richters