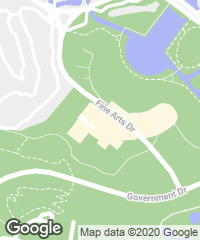 Saint Louis Art Museum is home to one of the most comprehensive art collections in the United States and is located in the city's recently restored Forest Park. The original and main building designed by Cass Gilbert was built as one of the exhibition pavilions for the Saint Louis World's Fair, held in 1904. Five years later it became the new home for the city's art collection and in the following years several extensions were added. Significant growth in the collection over recent years, combined with the ever-growing size of contemporary artworks and the need for increased parking provision below ground as part of the park's restoration, led to a major new commission in 2005 to improve the museum.
The new building respects the position of the Cass Gilbert original as the focal point in the park, and presents itself as a single-story pavilion. In its footprint, the pavilion steps out and back in four directions from one point, keeping its visual impact on the immediate surroundings and its wider environment to a minimum. The pavilion sits on a low plinth that reconciles the topography of the park while also aligning its internal level to the main floor of the Gilbert building, facilitating a seamless transition between old and new. It also establishes two connections through existing south-east and south-west doorways at this unifying level, respecting the existing axiality. The extension accommodates the museum's modern and contemporary art collection, together with temporary exhibition spaces, a new museum shop, and a dining space. Four large floor-to-ceiling windows provide views towards the Grand Basin, the monumental pond built for the 1904 Exposition. The facades are panelled with dark concrete containing local aggregates that are cast and polished on site, lending the pavilion a solid presence among the trees.
The pavilion is topped with a concrete coffered ceiling spanning the entire space. In addition to its role as a structural grid, it modulates and filters daylight into the spaces. The system works as a result of the depth and color of the coffers and the layering of materials in between: translucent glass on top and a multi-layered light diffuser below. The coffered ceiling allows for the internal walls to be relocated according to the module of the grid, creating a degree of flexibility for the arrangement of the galleries. The thresholds between the gallery spaces are defined by the absence of walls rather than doorways, allowing for long views through the galleries and out to the landscape beyond.
Obra Work
Saint Louis Art Museum
Cliente Client
Saint Louis Art Museum
Arquitectos Architects
David Chipperfield Architects London;
David Chipperfield (principal principal), Franz Borho (director director); Julie Bauer (directora de proyecto project architect), Stuart A. Beck, Daniel Buckley, Paul Crosby, Jesus Donaire Garcia de la Mora, Thomas Friberg, Isabella Gerster, David Gutman, Tom Herre, Silke Hoss, Victoria Jessen-Pike, Akira Kindo, Ilona Klockenbusch, Martin Leisi, Nina Lundvall, Rob Liedgens, Marina Mitchell-Heggs, Andrew Phillips, Dominik Schwarzer, Oliver Ulmer, Matti Wirth (equipo de proyecto project team)
Colaboradores Collaborators
HOK (arquitecto de registro architect of record); Michel Desvigne Paysagiste (paisajismo landscape architect); HGA Architects and Engineers (paisajista de registro landscape architect of record); Magnusson Klemencic Associates (estructura structural engineer); William Tao & Associates (ingeniero de registro engineer of record); Arup (instalaciones services engineer); Front Inc. (eficiencia energética envelope consultant); Arup (iluminación y acústica lighting and acoustic consultant); Rise International (gestión de proyecto project management); Davis Langdon: Martin Gordon, Jenny Young (costes cost consultant); Andy Goldsworthy (arte artwork); Kiku Obata & Company (señalética signage); Tarlton / Pepper / KAI Joint Venture (contratista contractor)
Fotos Photos
Simon Menges