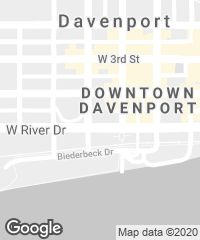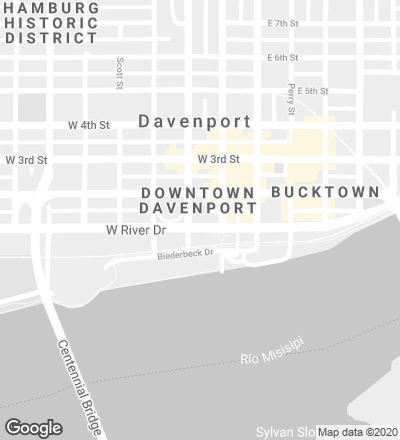 The creation of a new home for the Figge Art Museum (formerly the Davenport Museum of Art) in downtown Davenport, is a major catalyst in the urban revitalization of this historic city, which is located on the banks of the Mississippi River on Iowa's eastern border and is the largest of the Quad Cities, which also comprises Bettendorf, Iowa, and Rock Island and Moline.
In order to create an emblematic building for the city, the design of the Figge Art Museum was conceived as a monolithic glass structure that would powerfully yet simply landmark Davenport's redeveloping waterfront. Its architecture was based around the idea of a simple volumetric block enveloped by two layers of opaque, transparent, and translucent glass surfaces; the first layer guarantees the thermal control of the interior, while the second one acts as a screen to protect from rain and wind.
In urban terms, the design looks to support the old city grid by filling one half of a previously empty city block. Yet in maintaining a strong and singular outline, the design of the Museum reveals itself as more varied than its urban footprint would suggest – different frontages reflect differing site conditions and define each of the building's facades with distinct approaches: city plaza, street entrance, and riverside terrace. The plaza will provide for a sculpture garden and public gathering space, connecting the Figge visually with other cultural attractions in the downtown.
Inside the building, the program for its design and layout is based largely on the existing Davenport Museum of Art, with its rich mix of exhibition and non-exhibition functions. However, at three times the size of the former facility, the new building allows for generous exhibition space for the permanent collection; multi-level special exhibition galleries; and the inclusion of educational spaces, including drawing and study studios, lecture and library facilities. Public spaces include a restaurant, museum store, a generous lobby space and a multi-level Winter Garden that provides spectacular views of the Mississippi River. The design encourages the overlap of these functions, creating through the building a public route that gives visitors an awareness of the activities of the Figge Art Museum and allows students and artists to have an immediate relationship with the collection of paintings and objects that it houses.
Cliente Client
Davenport Museum of Art
Arquitecto Architect
David Chipperfield Architects; Herbert Lewis Kruse Blunck Architecture (arquitecto asociado?associate architect)
Colaboradores Collaborators
David Chipperfield Architects: Johannes Baumstark, Franz Borho, Jochen Glemser, Isabelle Heide, Victoria Jessen-Pike, Reto Liechti, Laurent Masmonteil, Viola Simoncioni, Jennifer Singer, Hau Ming Tse, Patrick Überbacher, Reiko Yamasaki; Herbert Lewis Kruse Blunck Architecture: Kirk Blunck, Cheung Chan, Doug Frey, Jill Goedken, Zach Heitzman, Tom Hilton, Cal Lewis, Carey Nagle, Mark Schmidt, Evan Shaw, Jonathan Sloan, Greg Smith, Tom Trapp, Jeff Wagner
Consultores Consultants
Jane Wernick Associates: James Packer, Jane Wernick; Charles A. Saul Engineering: John Paul Goedken, Charles Saul (estructura structure); Arup: Archie Campbell, Hilary Caton, Ned Crowe, Matthew David, Tim Hanson, Rachel Hughes, Lidia Johnson, Florence Lam, Chris McHale, Raj Pajel, David Prichard, Andrew Sedgwick, Mike Summer, Mark Thomas, Nigel Tonks, Mary Voutsina, Cress Wakefield (instalaciones services engineer); Arup: Andy Sedgwick, Florence Lam (iluminación lighting engineer); Missman Stanley & Associates (ingenieros civiles civil engineers); W J Higgins and Associates (muro cortina curtain wall); Liska + Associates (señalética graphics and signage); Steven Keller (sistemas de seguridad security systems)
Contratista Contractor
Russell/Pepper Joint Venture
Fotos Photos
Christian Richters