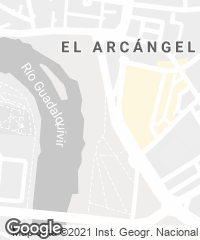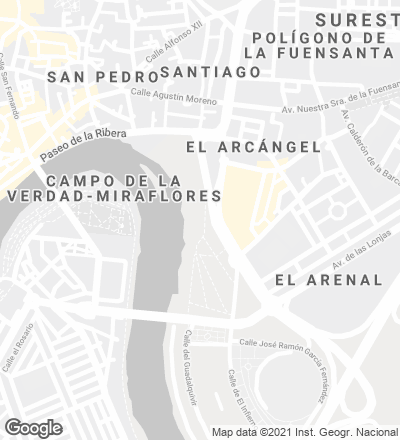 In an area that is particularly close to the center, right next to the meander that surrounds the stadium, the Balcón del Guadalquivir project restores the blurred banks of the river, builds a park in the areas that are cleared with the intervention, and turns the Martos Mill, refurbished as an hydraulic museum, into the center of attention of the recovered area and into its point of connection with the city.
Aterrazado en el punto donde el Guadalquivir gira, e integrando láminas de agua y variadas especies vegetales, el parque genera estancias a distintos niveles desde las que observar el perfil de la ciudad antigua.
The Balcón park follows the guidelines of three fans that unfold from the Ermita de los Mártires (Martyrs' Chapel) to the stadium and Arenal bridge. The first fan is centered around the chapel, the second organizes the entrances via three ponds that mark the descent towards the river, and the third makes its way through a large tree-lined area, directing the paths towards different points of the edge and to the fair grounds and rowing club, that shall be built in the lower level.
The vegetation is distributed in two areas: a first colorful one of gardens with bushes and flowers close to the chapel and the water, and a second one which generates shaded areas thanks to trees of different size, somewhat farther away from the river. The complex descends in the form of terraces from the highest point of the avenue to the banks of the river, and manages, with layers of water and connecting bridges, to bring the experience of water closer to the citizens. The main channeling wall, as well as the smaller walls that carve the terraces, are made of white granite from Cáceres; the sloping surfaces are finished with dry masonry of local stone – through which vegetation will grow –, and the smaller courts that are open in the lower promenade are clad in fragmented and colored large-size bricks.

The most important space in this intervention is the old milling shed, a vaulted room. The restoration has been carried out in keeping with the original architecture, and its interior contains the machinery of the old fulling warehouses. A small warehouse that was located over the vaulted hall and hence protected from flooding has been transformed into an exhibition area. Its original morphology is thereby recovered, adding a new prism finished in aluminum and glass and with a steel and concrete structure, where one can enjoy both the exhibited pieces and the views onto the river and the city. Two glazed skylights connect it directly with the vaulted hall underneath it, aside from acting as base for the display cabinets of the exhibition.
The project for the restoration of the Martos Mill and its conversion into hydraulic museum taking up one corner of the park places a lookout space over the old vaulted hall, connecting both with vertical prisms of light. 
Cliente Client
Procórdoba, Ángel Rebollo Puig
Arquitecto Architect
Juan Navarro Baldeweg
Colaboradores Collaborators
Fernando G. Pino, Marcello Maugeri; E. González Velayos, R. Pérez Morales (aparejadores quantity surveyors)
Consultores Consultants
Proina (estructura structure); Argu (instalaciones mechanical engineering)
Contratista Contractor
Necso, Freyssinet (molino watermill); FCC (paseo waterfront)
Fotos Photos
Duccio Malagamba