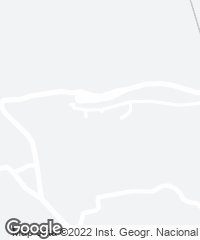 In the Altamira cave, close to Santillana del Mar, the Stone Age paintings were discovered in 1879 and since then the number of visitors has increased to the extent of putting their conservation in danger. Closed since 1977, these representations of bisons, horses and deer have been visited by only 35 people per day, leading in 1992 led to consider the construction of a replica in their proximities that would make possible their diffusion among the public. At one hundred meters from the original site, the building is set in the opposite side of the hill, outside the cave's impluvium area to avoid humidity alterations that could affect the paintings. New plantations of oak, pine, birch and hazel trees separate the original from the replica, and at the same time show the willingness to restore the landscape that guides the proposal.

So as not to disturb the view of the hill, the construction is born and raised from the ground, manipulating and restructuring the part of the hillside on which it rests. To minimize the visual impact, the extense program is divided in two volumes – corresponding to the exhibition area and the research center – that reproduce the hillside's profile with their landscaped roofs. The research center is situated over the replica of the paintings in an almost squared volume that meets with the three galleries that unfold at different levels to house the exhibition rooms, the cafeteria, the museum shop and a small conference room. A series of linear skylights emerge parallel to the contour lines, as if the vegetation crust had been carefully raised to bring in northern light to the galleries excavated in the rock. At the meeting point of both volumes is the entrance, connected with the road that traverses the lower level of the plot and comes to an end in a parking lot hidden among the trees.
Through a color code, the construction clearly shows this operation of sectioning and restoring of the topography that is embodied in the museum. The ocher of the aluminum sandwich panels is associated to the thickness of the raised layer of land, the red delimits the sectioned surfaces, the masonry walls of golden stone that enclose the replica and delimit the open air terrace refer to the dug out rocky stratum, and the stonework of large vertical slabs that encloses the exhibition rooms speaks about spacial definition, of a fenced in space, recreating the geological tectonic that conceptually supports the project by way of this chromatic strategy.
The extrados of the cave replica can be seen from the research center, that forms a squared volume which converges with the three galleries at different levels that house the exhibition collections, the cafeteria, the shop and a small assembly hall.
The plot is raised in skylights that illuminate the halls located next to the replica of the cave.
Cliente Client
Consorcio Altamira
Arquitecto Architect
Juan Navarro Baldeweg
Colaboradores Collaborators
Andrea Lupberger, Álvaro Galmés, Jaime Bretón, Daniel Delbrück, Andrea Kaiser, Andrés Jaque, Miguel Bernardini, Marcelo Maugeri, Sybille Streck; Eduardo González Velayos (aparejador quantity surveyor)
Consultores Consultants
Julio Martínez Calzón (estructura structure); Argu (instalaciones mechanical engineering)
Contratista Contractor
Necso
Fotos Photos
Roland Halbe; César San Millán; Duccio Malagamba