Public pavilion at Plaza de Larrabetzu
behark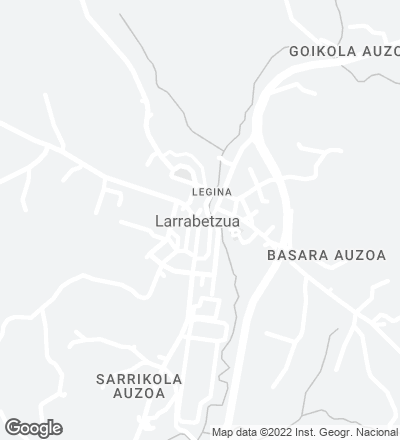 In Basque language, an aterpe is a refuge, a covered place or shelter. In the Basque regions the term is used to define a covered open space, so necessary due to the rainy climate. Given the lack of covered public spaces in the urban center, during the refurbishment project of the town hall emerged the idea of replacing the adjacent building, almost disused and of little architectural value, into a covered outdoor space that could complement the public area surrounding the town hall. This place, which as herriko plaza (town square) is the most important and central area in town, and which therefore brings together many of the activities of citizens, did not have covered outdoor and open spaces.
The new space is configured by means of a structure that functions as an envelope for the new volume, very similar to that of the existing building. From a similar perspective of respect for pre-existence, the project aims to recover the original physiognomy of the dividing wall of the town hall building at ground level, as well as the integration of the external stairs and the annexed fountain in the new building, so that, through their identification in the collective memory of the people of Larrabetzu, they can contribute to the assimilation and integration of the new building.
The structure of the outer covering that makes up the space, of laminated wood, consists of a series of structural ribs that serve as an open and ventilated envelope and support three pitched roofs. A single large wooden pillar attached to the town hall building supports both the roof and a mezzanine slab of cross-laminated timber, by means of a small portico at one end and a large cantilevered concrete beam at the other.
The proposal favors the maximum permeability of the covered public space so that a large number of structural ribs disappear on the ground floor to configure two large entrances, one from the plaza and the other from the west facade, following the usual routes on the square. An installation of linear LEDs generates a suggestive and balanced lighting that transforms the aterpe into a lantern, bathing the square in a diffused and subtle light.
The replacement of the existing building with another one clearly distinct from the main piece – the town hall –, and the restoration of the dividing wall as a new facade, helps to enhance the compositional value of the complex, bringing out the town hall and integrating the new building, despite its contemporary image, in a much more harmonious and silent way in the town square.
Cliente Client
Ayuntamiento de Larrabetzu
Arquitectos Architects
Behark / Beñat Saratxaga, Gentzane Goikuria; Beñat Saratxaga, Gentzane Goikuria, Asier Madarieta (equipo de diseño design team)
Colaboradores Collaborators
Juan Luis Urresti (arquitecto técnico quantity surveyor)
Consultores Consultants
Madergia (estructura de madera wooden structure)
Contratista Contractor
Zamakoa
Superficie construida Floor area
125m²
Fotos Photos
Mikel Ibarluzea