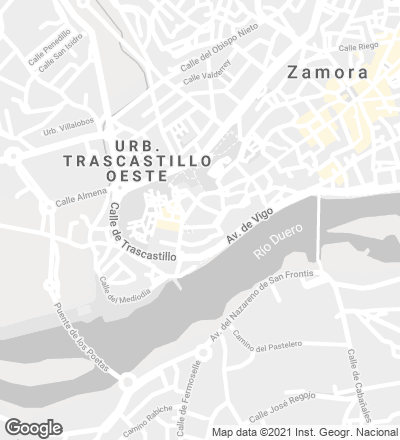 A plot across from the Romanesque Cathedral of Zamora was the place chosen for the construction of the headquarters of the Advisory Board of the regional government of Castilla y León. The competition held produced a winning proposal that stems from a reflection upon building in historic centers. The scheme is radical in approach: a stone wall pierced by just a few openings surrounds a garden where a light glass box rests. The wall is wrapped around the whole plot following the contours of the kitchen garden of the old convent, and goes up as high as the building. The color of the stones used to build this wall matches exactly that of the cathedral and the historic city fabric, and its detailing and width is also similar to that of the cathedral's stone. The few openings have been distributed strategically to offer views of the garden.
The challenge of building in the historic center of a city like Zamora is faced here with a radical approach: a stone wall that blends smoothly into its context, wrapped around a light box built entirely with glass. 
The building's program adapts well to this layout, giving the advisory board staff a quiet space for work as well as the security needed, with a strict control of both views and access. Since the stone walls guarantee security, the building's facade can be entirely transparent, allowing the interior spaces to open up to the garden around them. The perimeter wall transforms the plot into a large stone box, closed to the surrounding views but open to the sky and dotted with several trees to create an introverted garden presided by a modern building. 

Within the perimeter of the stone box, the glass box is configured as a double facade that takes on an active role controlling temperature throughout the year. The outer glass is built with sheets measuring 6x3 meters.  
The glass facade is built with extraclear glass sheets measuring 6x3 meters, joined with structural silicone and hardly anything else, as if entirely made of air. The sheets are arranged vertically, in such a way that they take up the full height of the building. The trihedral angles of the box are completely glazed, further emphasizing the search for transparency. The glass is simple, with no air cavity because this is achieved with a double glass facade whose sheets have enough distance to allow a person to move between them. This gap performs as an active climate control system which allows to adjust temperature, moisture and interior air circulation. It is able to retain heat in winter (greenhouse effect) and to release it and protect the building in summer (ventilated facade). In this way the facade is active with regards to the climate and at the same time entirely transparent to eliminate barriers between the interior spaces and the exterior. 

Promotor Developer
Junta de Castilla y León. Consejería de Hacienda
Arquitectos Architects
Alberto Campo Baeza, Pablo Fernández Lorenzo, Pablo Redondo Díez, Alfonso González Gaisán, Francisco Blanco Velasco
Arquitectos colaboradores Collaborators
Ignacio Aguirre López, Miguel Ciria Hernández, Alejandro Cervilla García, Emilio Delgado Martos, Petter Palander, Sergio Sánchez Muñoz
Estructura Structure
Eduardo Díez - IDEEE
Instalaciones Mechanical engineering
Úrculo Ingenieros
Aparejador Quantity surveyor
Juan José Bueno Crespo
Consultor vidrios Glass consultant
José Pablo Calvo Busello
Contratista Contractor
UTE Edificio Consejo Consultivo: Dragados - San Gregorio; Proinller (fachadas/vidrio glass curtain); Schindler (ascensores elevators)
Superficie Floor area
12.100m²
Fotos Photos
Javier Callejas