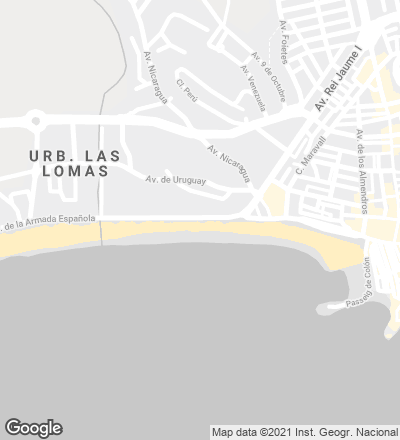 A place of transition between the built city and the natural space of the sea and the beach, the new waterfront of Poniente Beach is not conceived as a frontier or edge, but as an intermediate space that makes this transition permeable. Structured as a place with a rich topography, as a dynamic space to stroll and enjoy the views of the sea, it also organizes different spaces for leisure and relaxation.
The project gathers the longitudinal and transversal flows of the different circulation paths and organizes them, providing comfortable accesses to the beach, removing the architectural barriers and permitting direct access from the parking. In this way it becomes an architectural place that shapes a new topography and plays with the light and shade: a series of braided sinuous lines that define the different spaces and adopts different natural and organic forms, recalling the fractal structure of a cliff and also the movement of the waves and the tides.
The waterfront promenade is formed of different layers: a first one of structural character, which builds the edge line, finished in white concrete; a second formed by textures, with pavements in different colors; and a last layer that makes up the urban furnishings, the natural elements – water, vegetation, and so forth –, all of them building a homogeneous place with a personality of its own. The Benidorm waterfront is thus set forth as a new form that blends the artificial and the natural. Inspired in the organic forms of Art Nouveau and in the avant-gardes of landscape design, but applying the latest construction technology, the project is not the result of random choices, but emerges after establishing specific geometrical laws and a modulations that facilitates constructive logic. The beach partially invades the areas previously occupied by the old seafront, thus increasing the area of sand surface and reducing that of asphalt.
The project addresses all the required functional needs: areas for strolling, breakout spaces, viewpoint, transition with the beach, absence of architectural barriers, rainwater collectors, roads, integration of urban furnishings and service infrastructures. From the sea, the project builds a new facade, facilitating the view from the beach from the higher area of the promenade, and establishes a new boundary, encompassing the different circulations in its folds and platforms, removing a barrier and building a space for citizens.
Cliente Client
Generalitat Valenciana, Ayuntamiento de Benidorm
Arquitectos Architects
Carlos Ferrater, Xavier Martí (OAB)
Colaboradores Collaborators
Luca Cerullo (dirección de obra site supervision)
Consultores Consultants
Juan Calvo. Pondio (estructura structure)
Contratista Contractor
ECISA-Dragados
Fotos Photos
Alejo Bagué