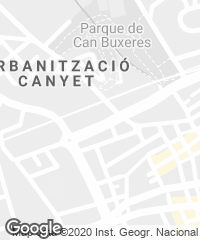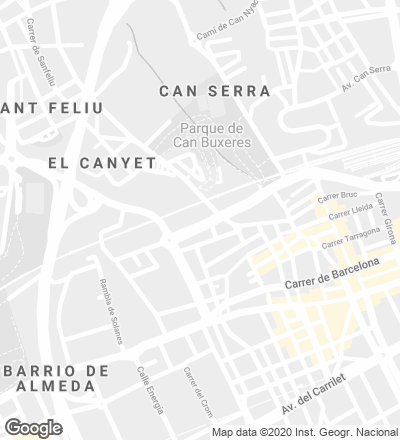 The project foresaw the construction of a residential complex containing 108 social housing units in L' Hospitalet de Llobregat, a municipality of Barcelona. The apartments go up on a conveniently located site both for its closeness to the city center and its easy access to a large transportation network and a comfortable connection to Ronda de Dalt – the Barcelona beltway.
The plot is trapezoidal in shape, and its main front can only be accessed through the avenue Josep Tarradellas i Joan – since the train tracks are practically parallel to the rear block –, and there are no roads along the two sides, with a drop in the terrain of more than five meters between the city level and the top platform. These premises determined the decision to generate a huge plinth of 70 meters in length with a ground level on which the residential blocks rise.
Each one of the three cores gives access to 36 apartments. The scheme is designed in such a way that all the housing units face south and all of them enjoy natural lighting and  cross ventilation. 
At ground level, a separate retail facility linked to the first parking level faces the city with a front built entirely with the same material, and which houses emergency exits, systems, ventilations... Pedestrian access to the dwellings is through two central communication cores, looking out towards the avenue and lined up with the facade. These cores connect the city level with that of the upper platform, connected by an interior pedestrian street that leads to the rear communal area, after going through courtyards and garden paths. Each vertical core gives access to 36 units with terraces, around four units per floor, with a total of 108. There are 91 three-bedroom units and fourteen two-bedroom apartments, as well as dwellings adapted for disabled people.
Built with a restricted budget, the project proposes a precise facade  modulation, combining aluminum, which gives the building a vibrant and changing image, with smooth walls of white one-layer rendering.
The complex consists of three apparently free-standing towers as main facade onto the avenue, linked to a large linear block, slightly lower in height, which acts as backdrop for the building. These volumes are joined along the central void by communication cores. This arrangement permits orienting all the apartment units towards the south and the city views, and applying passive ecoefficiency measures such as natural lighting and cross ventilation.
The three towers emphasize their vertical character through their composition and the top crowning element, where the installations are placed. The building's corners are dematerialized, generating transparency and giving the towers a light appearance, evocative of the poetic image of a Miesian skyscraper.
Cliente Client
LNC de Inversiones, Premier Inmobiliaria
Arquitectos Architects
OAB Office of Architecture in Barcelona: Carlos Ferrater, Núria Ayala
CC245 Arquitectos: Sergi Blanch, Sandra Rodà
Consultores Consultants
PGI Engineering (instalaciones mechanical engineering); JFG Consultors (estructura structure)
Superficie construida Floor area
18.200 m²
Presupuesto Budget
10.000.000 € (549 €/m²)
Fotos Photos
Joan Guillamat