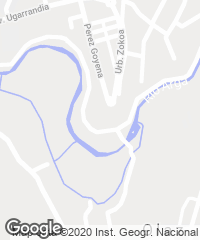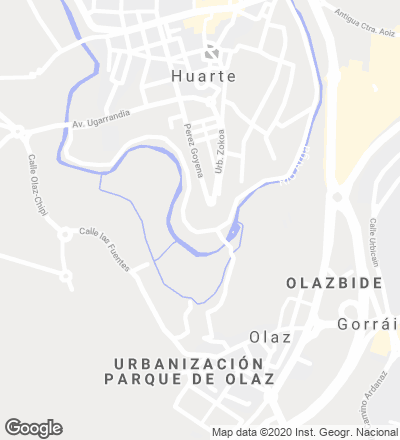 The european forum was founded in the past decade to provide workers with further training and so correct the deficiencies that some local companies had noticed. Years later the Forum has become an established institution, encouraging the construction of a business campus with main headquarters in Huarte, very close to Pamplona. The business school is the first building to go up on campus, a green area full of trees and right by the course of the River Arga, that connects it with the Navarrese capital.
The building takes up the geometric center of a meander, and rests on the prairie like an object. A gentle slope of the vegetal surface, spanned via a ramp and stairs, is the only point where the prism and the landscape touch. To accommodate an essentially academic program – classrooms, offices, library – the volume is organized around the traditional cloister, presided by a cypress tree, placing around it a continuous corridor first and the classrooms next. In the four corners, the perimeter gallery departs from the courtyard to house meeting areas, open to the landscape, linked to the four vertical communication cores. The halls take up the square's sides with a flexible structure enabling varied compartmentalizations in accordance with the specific needs. Two volumes occupy the central garden: a partially freestanding triple-height piece houses the cafeteria on ground floor and the library on the top floor, while another smaller piece links two opposite sides of the square in a narrow bay containing the restrooms in two floors.

The choice of materials speaks of the desire to turn this into the institution's flagship building, and to ensure at once an adequate relationship with both the natural environment and the activity that takes place behind the facades. In this way, the exterior enclosure combines, with different degrees of opacity, aluminum sheet – that when placed in three bands of vertical slats recalls the stems of trees in a forest – with wood, placed in a single band of pieces from floor to roof. A second skin of glass covers the four facades drawing sunlight into the four bays. Towards the courtyard, U-glass has been used for the prism that houses the systems – whose organization in colored boxes generates a rhythmic composition – and microlaminated iroko slats in the classrooms. The library a is wood-clad prism that occupies the garden and rises over the metallic roof heralding a surprising and complex interior.  
The center combines the European tradition of cloisters, placing the gallery around the court, with a refined interaction with the natural context, covering each facade with different 'veils' of glass, wood or sheet. 
Cliente Client
Foro Europeo
Arquitectos Architects
Antonio Vaillo i Daniel, Juan Luis Irigaray Huarte, SAS
Colaboradores Collaborators
David Eguinoa
Contratista Contractor
Obenasa
Fotos Photos
José Manuel Cutillas