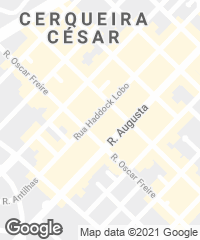 Located in a central street of São Paulo, the Guaimbê Building hides amid the neighboring blocks, setting back its main facade ten meters with regards to the road. Only the entrance to the building stretches out to the sidewalk, protecting the transition between the public space and the private realm. With a rectangular geometry with a one to four proportion, the volume stands out with a narrow plate of just seven meters in width. The structure, consisting of four reinforced concrete frames, concentrates its supports along the longitudinal fronts. This arrangement favors spatial continuity in the interiors, which are freely subdivided by curved walls. To avoid intense sunlight, the main facade is protected with a brise-soleil that takes up the entire surface, while the rest of the sides are enclosed in continuous concrete walls.
In this building Mendes da Rocha tried out a mechanism he would later develop in buildings like the Jaraguá, which is using the depth of the beam and the position of the slabs to create small differences in height that provide room for services, furthermore improving ventilation. In this way the living room and hall are three steps above the remaining spaces in the dwelling.  
Cliente Client
SIVEL Sociedade Imobiliária de Vendas e Empreendimentos Ltda.
Arquitecto Architect
Paulo Mendes da Rocha
Colaborador Collaborator
João Eduardo de Gennaro (arquitecto architect)
Consultores Consultants
Escritório Técnico Siguer Mitsutani (estructura structure), Hemel Hidro Electro Mecânica e Engenharia (instalaciones eléctricas electrical systems), Sanhidrel Instalações, Comércio e Artefatos Ltda. (instalaciones hidráulicas water systems)
Contratista Contractor
Construtora Pacheco Fernandes Dantas