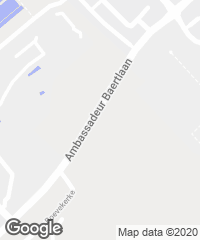 Located south of the historic center, the neighborhood of the Flemish city of Courtray (Hoog Kortrijk) is a low-density area with large open spaces and a gently sloping topography. Aiming to develop a coherent structure with a recognizable identity for the district, at the beginning of 1990 the Town Hall organized an international competition for its urban redevelopment. The competition winner, the Italian urbanist Bernardo Secchi, was also in charge of designing the municipal cemetery in this neighborhood, now extended with this new crematorium.
The project wishes to respect the environment it is part of, trying not to alter the existing topography. To achieve this, the building 'disappears' in the landscape, burying itself in the ground: barely one meter of the structure emerges above street level. Only the verticality of a sculptural chimney counteracts the horizontal character of the building, the vegetal roof of which reproduces the green prairies carpeting these lands.
The whole program is housed in one level that is below ground, so a ramp gives access to it from the street. The narrow ramp runs parallel to the edge of the site, initiating a linear sequence of ceremonial spaces that follow one another seamlessly. The first one of them is the trapezoidal, outdoor courtyard that brings the ramp to an end and performs as an atrium of access to the precinct. A tree goes up in the center, presiding this space. Behind it is the lobby, two rooms for the families and two halls for ceremonies; their layout allows them to be in use simultaneously. The rooms for ceremonies are directly connected to the crematorium, with technical spaces behind it and a parking area for funerary vehicles, which reach the building through their own ramp, facing that of visitors, on the opposite side. This arrangement avoids mixing the circulation itineraries of family members and friends from those of service workers. Two interior courts bring natural light into the building.
The building is made of reinforced exposed concrete. The texture of the vertical board formwork gives the surfaces a subtle vibration, giving different nuances to a project that is otherwise rigorous in geometric and constructive terms. Wood floors and white rendered walls are the main finishes used in the interior. 
Cliente Client
Psilon - Crematorium Kortrijk
Arquitecto Architect
Eduardo Souto de Moura, SumProject
Colaboradores Collaborators
Sílvia Alves, André Campos, Eran Mordohovich, Nicolas Goubau, Manuel Vasconcelos, Marta Pinho, Carlos Mariano, Mário Ramos
Consultores Consultants
Afaconsult, SumProject (estructuras structural engineering); Ingenium (electricidad, fontanería y saneamiento electrical and hydraulic engineering)
Contratista Contractor
Furnibo
Fotos Photos
Tom Swijns