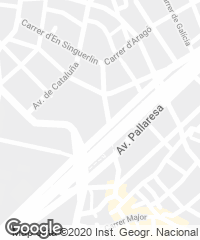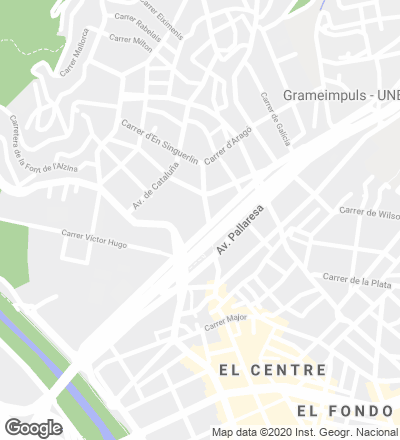 The project is located in a transition area between the historic center of Santa Coloma de Gramenet (Barcelona), with a compact and established urban fabric, and the neighborhood of Singuerlin, with a precipitous and discontinuous morphology. The area of intervention is composed of two plots limited by the Francesc Macià Avenue, Pallaresa Avenue and the Passatge d'en Salvatella, as well as by the stretch of Puig Castellar Avenue that separates both plots. The aim of the project is to create a new centrality in Santa Coloma through the presence of a complex equipped with facilities – hotel, cinemas, shops, parking – as well as by private and social housing.
On an urban scale, the intervention strategy stems from the functional discontinuity of the nearby environment, which makes the idea of a continuous fabric unfeasible. For this reason, the proposal suggests creating vast open spaces and concentrating the construction of high-rise buildings. The vertical nature of the complex aims to free up as much space as possible around the buildings, turning the project into a symbolic landmark in the area, in which it acts as a sort of door or facade defined by the formal dialogue between the two housing buildings that go up on either side of Puig Castellar Avenue. The free space is organized as an urban park, an extension of the nearby Europa Park connected to the Can Zam leisure complex.
The complex, formed by a low-rise volume with a hotel and two levels of housing, has different heights but a similar facade design, thus giving a unitary image to the totality of the intervention. The arrangement of the volumes adapts with precision to the needs of the site: the prism of the hotel is a parallelepiped with eight heights and a rectangular floor plan, which interacts with the twenty-five story housing tower via two large platforms at different levels. The hotel is lined up with Pallaresa Avenue and the tower is set back, parallel to the avenue. The third building, of fourteen heights and an almost squared floor plan has been placed on the other side of Puig Castellar Avenue, lined up with it. In this way, and because Pallaresa Avenue is not perpendicular to Puig Castellar, this building visually rounds off the central square without closing it. The compound is complemented with the construction of two social housing buildings for senior citizens, located on the western end of the site, and with a residence for the elderly located on the eastern end. 
Cliente Client
Prosavi
Arquitecto Architect
Iberian Arquitectos: Robert Terradas, Esteve Terradas, Eduardo Souto de Moura
Colaboradores Collaborators
Daniel de Castro, Federico Accetti (directores de proyecto project architects); Catarina Prata, Gabriel Mesquida, Pedro Gonçalves
Consultores Consultants
MC2: Julio Martínez Calzón (estructuras structural engineering); A&J Enginyers: Juan Hernández (instalaciones mechanical engineering)
Contratista Contractor
GALASA, Construcciones San José
Fotos Photos
Luís Ferreira Alves, Pedro Pegenaute