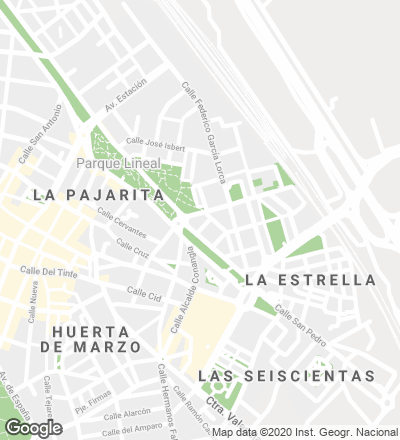 Located in a new peripheral neighborhood east of Albacete, the building meekly adjusts to the alignments of the trapeze that delimits the plot on the ground floor perimeter, with the exception of the five-meter setback of the facade onto Buen Pastor street. This concession allows to extend the breadth of the sidewalk and to mark out the position of the entrance, which is also emphasized by the cantilevering volume containing the two upper floors, which halts at the boundary of the space available. 
The police station combines public access areas for the issuing of identity cards and passports and report filing, all organized by a corridor, with private areas containing offices, the police captain's dwelling and a parking area for police cars in the basement. The different slope of the plot's streets becomes an opportunity to conveniently place the accesses and reduce the length of the garage ramp.
The plot's contour lines determine the curved morphology of the building's base, which gently adapts to the perimeter with an equidistance that is broken only along the facade of the main access.
The repertoire of materials clearly differentiates two platforms: a concrete base whose facades are perforated by a sequence of diagonal openings, and on top of this base the glazed volume containing the two upper floors of offices, sliding along the slope until it forms the cantilever that signals the building's main entrance.
The enclosure of this prism varies in accordance with its orientation and with the distribution of uses. While the facade that is less exposed to sunlight is finished with a simple glass wall, the southeast front is executed with a double glass sheet with brightly colored vertical slats of the same material.  
These elements direct the gaze from the communication corridors, giving the interior circulations more privacy. The colors of the facade counteract the monotonous urban context, departing from the typically gloomy appearance that this type of facility is associated with.
The image of the perforated concrete plinth expresses the desire to bring together solidity and transparency. The trapezoidal modulation of the floor plan of a project that was under development at the same time was transferred to the facade of the police station. This plinth becomes the latticework by means of window frames that are seamlessly built into the facade. An image that also appears on the horizontal plane, with voids that configure a sequence of courtyards that organize the ground floor, improving the lighting and ventilation conditions both of the offices and the garage.
Cliente Client
Gerencia de Infraestructuras y Equipamiento de la Seguridad del Estado
Arquitectos Architects
Alberto Martínez Castillo y Beatriz Matos Castaño
Colaboradores Collaborators
Alejandra Martínez de la Riva, Borja Álvarez González, Martina Schlüter, Julián Ramirez Rentero, Tómer Kenin, Eva Roense; Alberto López Díez (aparejador quantity surveyor)
Consultores Consultants
Valladares Ingeniería (estructura structure); Úrculo Ingenieros (ingeniería engineering)
Contratista Contractor
Construcciones Villegas
Fotos Photos
Hisao Suzuki