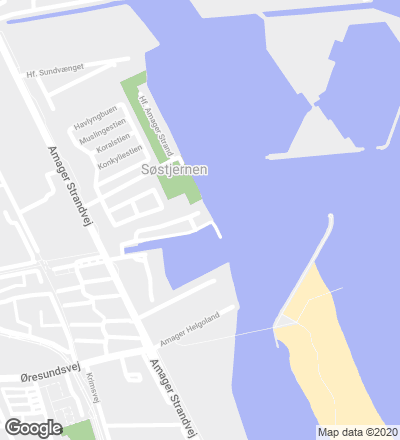 The Maritime Youth House, located on the island of Amager, in Copenhagen, took as point of departure a technical problem related with the physical characteristics of the plot. Removing the polluted topsoil was a priority, but it also meant allocating one third of the whole budget to this end. After carrying out the necessary studies, the geotechnical report confirmed that the terrain was contaminated only with heavy metals, which meant that it was still stable and could serve as a base on which to build. The whole plot was covered with a flexible wooden deck, creating a sort of inhabitable and 'safe' surface. In this way it was possible to avoid excavating, and a more architectural and sustainable approach offered a solution to the initial problem.
The unusual program described in the brief was another motivating challenge. Two very different types of uses had to coexist in the facilities: a youth center and a yacht club with conflicting requirements. The former demanded large exterior spaces for children to play, while the latter called for storage space for docking. In this way, the building can be interpreted as the direct result of making these contradictory demands coexist: the roof rises just enough to permit storing boats underneath it while providing an undulating landscape for kids to run and play above.
The interior is very low key. The front room oriented towards the coastline is used as a communal space where most of the center's daily activities take place. This room uses a higher level of materials and shows greater detailing than the workshop and the yacht club storage areas. The floor in the workshop is a standard gray concrete, while that of the communal space is a polished white concrete with white aggregate. The hard and cold interior surfaces contrast with the warmth of the wooden exterior, an inversion of the conventional formula where wood in the interiors is combined with a concrete and asphalt exterior. This decision concerning the material palette reflects the dominance of outdoor activities. The form of the building evokes the movement of the sea, but also that of children playing. Unique and familiar, the youth house fulfills all the needs of the place, client and users with one single gesture, offering a clear example of how, through analysis, an initial problem can be turned into an architectural potential that enhances the creative process.
Cliente Client
Kvarterløft Governmental City Reneval Project, Lokale Og Anlægsfonden, Urban Development Fund
Arquitectos Architects
PLOT: BIG + JDS
Socio responsable Partner in charge: Bjarke Ingels
Jefe de proyecto Project leader: Henning Stüben & Annette Jensen
Equipo de proyecto Project team: Dorte Børresen, Finn Nørkjær, Jørn Jensen
Colaboradores Collaborators
JDS, Birch & Krogboe
Fotos Photos
Mads Hilmer; Paolo Roselli; Julien De Smedt