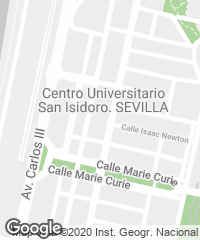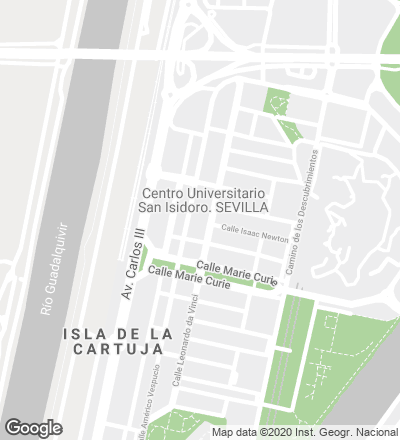 THE HOSPITAL of the Instituto Cartuja de Técnicas Avanzadas en Medicina (ICTAM, or Cartuja Institute for Advanced Techniques in Medicine) goes up on the north section of this Sevillian island. The complex, located between two parallel streets running north-south, is distributed in bands perpendicular to the road with three elongated courtyards that organize the program. The building combines in this way the functional rationality with the warmth of the interior courtyards that break up the compact nature of the block and fill the interior spaces with light.
The program is laid out in strips separated by courtyards. One of the courts performs as an interior street that organizes the circulation towards the glass lobbies on each floor, which  open up to the views.
The project proposes using one of the courtyards as a large cross-through path that organizes the whole program and includes the entrances to the building. This interior void gathers the communication nodes that lead to the lobbies of the different levels. The lobbies are strategic pieces in the building, because they organize the access to the rooms and serve as multipurpose areas for rest and contact with doctors. These spaces are hence configured as outlooks towards the rural and natural landscape around the building, opening up to the exterior like large glass boxes. This communication scheme – an interior street with adjacent lobbies on each floor – is very clear and reduces the itineraries, making horizontal communication prevail over vertical one. 
The bands' scheme divides the program into functional blocks with the best orientation to naturally illuminate and ventilate the rooms, and permits a clear separation of the interior and exterior circulations. 
The other two courtyards organize the functional blocks and bring southern light inside. The underground floor houses sanitary areas with equipment for diagnosis, surgery rooms, etc., which need isolation; however, the circulation on this floor is enhanced with the natural light that comes in through one of these voids, and that reaches the basement level. On ground level, the management and administration spaces take up the southern band, flowing out to the interior street of access, while the other two bands contain the emergency room areas, in contact with the street. The inpatient rooms are on the floors above grade, which are laid out in bands that open up to the south and the communication corridors that open up to the north.
Both the exterior facades and those of the interior courtyards are covered with a perforated metallic sheet finish with clear glass in those areas that demand direct natural light and on the lobbies of each floor. The combination of glass and sheet in two superimposed layers permits lighting, ventilating and guaranteeing the privacy of the rooms that flow onto the courtyards, maintaining the homogeneity of the complex. 
Cliente Client
Empresa Pública de Gestión de Activos (A.G.E.S.A.)
Arquitectos Architects
José Morales, Sara de Giles
Colaboradores Collaborators
Carlos Bauzá, Jairo Fernández, Alberto Germá, Isabel Jiménez, Ángel Barreno, Jordi Bolaños, Lola Hermosilla; Giulia Barra, Elena Jiménez, Juan J. Olmo, Rubén Olivares (maqueta model)
Consultores Consultants
INSUR J.G (instalaciones building systems), NB35 (estructura structure)
Contratista Contractor
AYNOVA
Fotos Photos
Jesús Granada