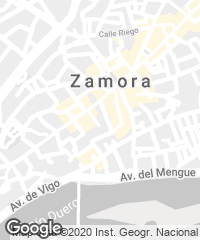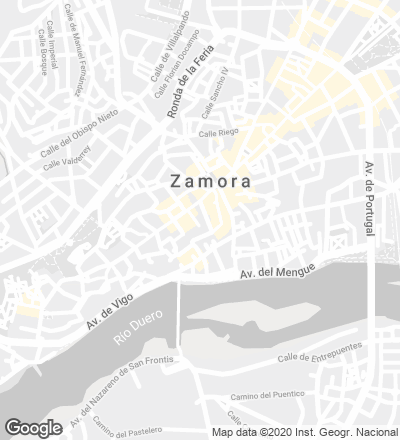 Located in the historic center of Zamora, the Ramos Carrión Theater, inaugurated  in 1916, is a modernist building that has undergone several alterations throughout the 20th century. For some time it was used as a cinema, and in 1967, in order to adapt it to the new technical advances, an intensive refurbishment completely changed the appearance of the hall, transforming the decoration and the layout of the amphitheater. It would later fall into disuse for an extended period of time until in 1996 the City Council called a competition to refurbish and extend the building, a project which has been completed after a long planning phase.
The new square in the rear part of the theater will become a platform offering vantage views over the Duero River. Outdoor activities will be held there, with the accordion-like glass facade as backdrop. 
The theater building was initially intended to shape the street and become a representative piece in the city. The materialized proposal tries to expand its area of influence all the way to the Duero River and the opposite bank, as well as the side street. The building was furthermore devised as an unfinished volume, the main hall of which projects backwards. The new extension emphasizes this same ambiguity, defining a single and continuous space, carved into the ground and blurred along the roof, stressing the interplay of open and closed spaces. The scheme foresees that the program may vary with time, and the building might be enlarged should needs change.
The building is set in the dense urban fabric and flanked by narrow streets, although on one of its sides it enjoys a strategic position over a garden that looks out to the Duero River. The intervention on heritage has been significant, because aside from the preservation works on the main facade, several pieces that complement and enhance the complex have been built. These new elements consist of a pavilion that fills the access square, a large ramp that threads the program, connecting everything: streets, existing buildings and garden towards the Duero. And lastly, a roof that follows the public flow.
The building proposes reusing the traditional image and program. The old hall is now a container that can be used for concerts, conferences, meetings, as well as movies or theater plays. This new versatility has urged to change the stage mechanism, which changes its position as backdrop. A new neutral space takes up the garden permitting its use as hall, classroom or even ballroom, while the rest of the ground floor is for exhibitions.