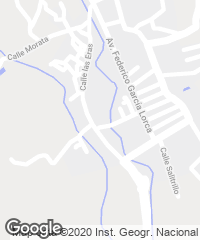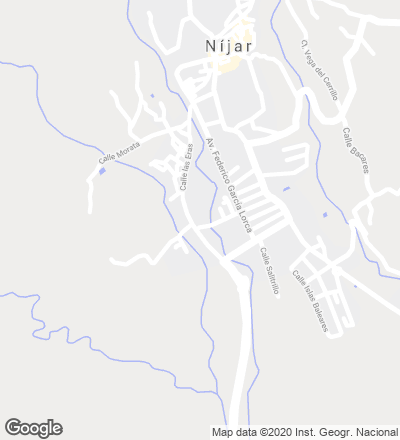 The strength of the landscape of Níjar, the desert, the topography and the horizon were the key elements in the origin of the project. The objective was to seize the environment not only with the eyes but with space.
Plasticine models served at a first moment to shape the volume, modeling by hand a continuous mass in which it is hard to separate the building from the terrain. Finally the piece was partially buried to adapt to the scale of the town, which cascades down to the plot, limiting the height towards the main street through which the public accesses the precinct.
The variety of uses led to the division of the center into two separate pieces; one of them houses the 'day program', with rehearsal rooms, offices and exhibition areas, while the other one accommodates the 'night program', with cinema, theater and ballroom. Both are connected by a third excavated volume, located below street level, which contains camerinos, dressing rooms and facilities. This is how the buildings rise as seeminly freestanding pieces, leaving around them courtyard-pits above which emerges the natural terrain contained with gabions. 
The purpose is to center the life of the new building around the movement to and from one side and the other, with the echoes and the bodies moving around the volumes, through which the landscape and the marked shadows of the hot Almería summer sneak in. 
The accesses are also different: the one for the daily activities, more routinary and closer to the people, is finished off with an English courtyard through a shaded exterior lobby; and the night one, more ceremonial, follows a linear and partially elevated path adjacent to the building and all the way up to the 'mouth' of the theater.
The two buildings are designed as fragments of a void tube of rectangular section in which the functional programs are inserted, always leaving a continuous void that makes its way through these boxes and allows perceiving the interior as a single space. This formal coherence is also transferred to the construction. 

The two pieces are abstract containers, with a single interior space in which the boxes of the program are inserted. The interaction with the exterior is constant thanks to large openings that light up at nighttime.
The enclosure, carried out through the superimposition of skins, is uniform in all the tubular shell, that is, the treatment is the same for both vertical facades and roof. The structural framework is closed with sheet, lined with a layer of thermal insulation and a waterproof layer. Lastly, the building is dressed up in its best clothes: a perforated sheet that is always ready to welcome the next show.

In contrast with the even and serene tones of the landscape and with the skin that wraps up the exterior of the building, the interior spaces are painted in bright colors to set apart the different functional elements.
Cliente Client
Junta de Andalucía, Diputación Provincial de Almería, Ayuntamiento de Níjar
Arquitectos Architects
José Morales, Sara de Giles, Juan G. Mariscal
Colaboradores Collaborators
Gabriel Flores, Reyes López (aparejadores quantity surveyors)
Consultores Consultants
Francisco Duarte (estructuras structures), Acuili, Amoenitas, Di Marq (instalaciones mechanical engineering), Chemtrol (equipamiento escénico stage facilities)
Contratista Contractor
Garasa
Fotos Photos
Fernando Alda; Jesús Granada