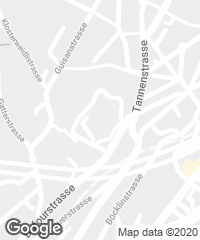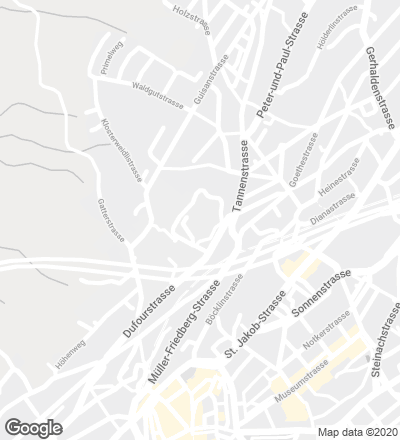 The head office of Helvetia Patria insurance is located on top of the Girtannersberg, a raised part above the town of St. Gallen, and in the vicinity of other large building complexes.
The new extensions of the existing cruciform complex are designed to create a functional and contextual organism arranged around four differently laid-out courtyards. The buildings added on to the end of the existing cruciform arms each vary in size or structural system in response to the respective topographic and urban context.
They are narrow, glazed structures oriented towards the city. The room-height windows, with frames of dark steel that jut out over the facade line and visually break up the built volume into a sort of framework that wraps it completely. These windows are mounted with a slight slant from their vertical or horizontal axis, each one in a different direction, reflecting the garden, the sky and the neighbouring buildings, and giving the facade a dynamic, kaleidoscopic appearance. On the four floors of both buildings, each vertical axis of windows shows the four types set up each time in a different position. The outline of the buildings loses severity and they seem to begin to breathe through branchiae. The undesirable effect of mirror-facades goes away; the context is in a way fragmented. Helvetia Patria in St. Gallen represents the attempt to manipulate an efficient, modernist, "Miesian" steel/glass structure in order to create both a more individual, more intimate atmosphere inside and a more complex architectural interaction outside.
Inside the building, each workplace enjoys a different spatial environment due to the slanted glazing in every window. The absence of intermediate columns in this single-bay scheme – which is only a few meters wide – makes possible a flexible floor distribution. By agreement with the client, the architects decided to place along one of the sides a strip of single and double offices, freely combined and separated from one another by opaque panels, while the side parallel to the facade, which is also the one through which the offices are accessed, is completely glazed. The offices thereby have access to the most 'communicative' area, where the furniture is arranged with greater freedom, and which takes up the other half of the floor, performing also as a corridor. This space is also occupied by resting areas, filing cabinets, informal meeting rooms and tables for teamwork.
Cliente Client
Helvetia Schweizerische Vericherungsgesellschaft
Arquitectos Architects
Jacques Herzog, Pierre de Meuron Mathias Frey
Colaboradores Collaborators
S. Anklesaria, S. Brunner, A. Fuchs, R. Oechslin, P. Remund
Consultores Consultants
Grunenfelder & Lorenz (estructura structural engineering); Emmer Pfenninger Partner (fachadas facade); Vogt (paisajismo landscape)
Fotos Photos
Hisao Suzuki, Margherita Spiluttini