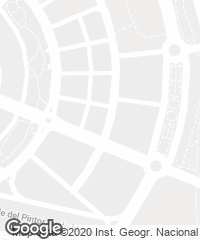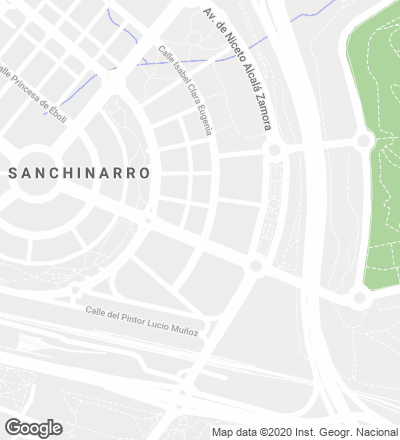 The Madrid neighborhood of Sanchinarro adds a unique building including 146 social housing units, conceived as an alternative solution to the traditional closed urban block type. It has been set forth as a construction system with a variety of formal solutions, drawing inspiration from a latticework. In this way, the housing complex consists of thirty built volumes – with one, two and three bedroom apartments – and thirty openings, understood as communal areas whose role is to boost interaction among neighbors. All the units have an additional 'room' that opens up to the exterior. Each space, as a sort of hallway, addresses the transition between the communal courtyard and the private realm of the apartments.
Designed as a latticework, the unique building combines solid volumes – housing one, two and three bedroom apartment units – with voids in the form of courtyards that are meant to boost interaction among neighbors. 
The built volume is slightly set back with respect to the street, generating a narrow strip carpeted with a green slope. The ground floor has twelve shops and six doorways to six stairways. Six arcades link the central courtyard with the street through all the facades, which ensures free-flowing itineraries and contact with city life. The unevenness of the surrounding roads allows placing entrances without ramps to the first and second basement where the garages and lumber rooms are located.
The innovative system of molds used in the construction opens up new possibilities to raise a high-quality and low-cost building in little time. All the units have been built with a single aluminum mold – conceived as a base unit – and two supplementary variations. Furthermore, the dry construction systems generate no rubble on site, which guarantees a reduced energy consumption and considerable saving in material use. The assembly began with a general framework, and on top the facade insulation and electricity, plumbing, telecommunications and heating installations. The following step was the formwork assembly, with a lightweight aluminum that the workers could easily handle. And finally, after the mass concreting – walls and slabs – with a very fluid concrete, it was possible to remove the formwork in barely twenty-four hours.
The energy efficiency of the passive systems and the installations are particularly important in the design. The courtyards guarantee cross ventilation in all the dwellings, through two or three facades. Furthermore, a centralized system of low consumption boilers in all the building helps to reduce energy use, and it is combined with solar panels to produce hot water.
Cliente Client
EMVS, Ayuntamiento de Madrid
Arquitectos Architects
Blanca Lleó, Winy Maas, Jacon Van Rijs, Nathalie de Vries
Constructor Constructor
BEGAR Construcciones y Contratas
Colaboradores Collaborators
Camilo García, Maria Espinosa, Miguel Tejada, Constanza Temboury, Néstor Montenegro, Belén Butragueño, Sandor Naus, Patricia Mata, Ignacio Borrego, Raquel Martinez, Florián Jenewein, Marjolijn Gudemond, Fabien Mazenc, Alfredo Cadenas; Enrique Gil (arquitecto técnico quantity surveyor)
Consultores Consultants
José Luis de Miguel (estructura structural engineer); JG Asociados, Emilio González (instalaciones electrical and mechanical engineer)
Fotos Photos
Roland Halbe