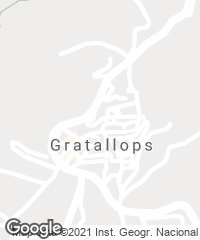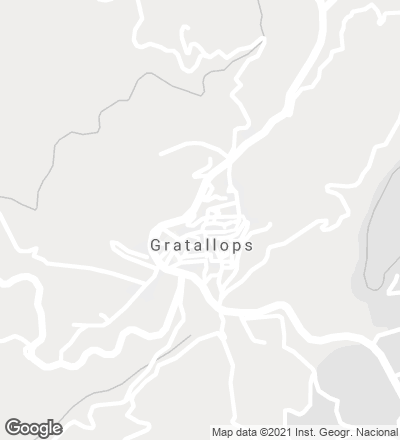 In the historic center of Gratallops, a municipality of Tarragona province, amid narrow streets and houses between party walls, a winery with a built area of 1,289 square meters adapts to its L-shaped plot.
With walls as thick as 1.75 meters at most, the large, triple-height, rectangular production area is surrounded by a space shaped like a Z, following the irregular line of a preexisting stone wall, an old pediment 10 meters tall that serves as a party wall. A system of loadbearing brick walls, with different layers between pilasters that form chambers for air to circulate in, helps to cool the building. Along the perimeter at ground level is a sequence of openings that follows the rhythm of the structural pilasters of the walls. A gently sloping passageway from the entrance to the production space presents a succession of roofs of varying height, in combination with a series of slabs that serve as landings between flights of stairs.
The casks and the bottled wine are put in the basement, in direct touch with the earth, keeping the necessary hydrothermal conditions stable. On the other hand, the actual vinification facilities use three bioclimatic strategies: maximum possible height, so that warm air rises and stays far from the vats; harnessing of the inertia of construction systems, for hydrothermal stability; and letting the central part of the roof use nighttime radiation to cool the floor slab of the production space, with a closed water circulation system between two levels, an upper one in contact with the exterior, where water dissipates heat at night, and a lower one, which during the day, in contact with the slab, brings cool air inside.
The Clos Pachem winery has received a Special Mention in the 2020 National Awards for Architecture, given by the CSCAE (Spanish Association of Architecture Institutes).
Cliente Client
Privado Private
Arquitectos Architects
Harquitectes (David Lorente, Josep Ricart, Xavier Ros, Roger Tudó)
Colaboradores Collaborators
Maya Torres, Berta Romeo, Víctor Nadales, Miquel Arias, Irene Puig, Xavier Mallorquí, Eva Millán
Consultores Consultants
DSM arquitectes (estructura structure), Oriol Vidal ingeniería SLP (instalaciones mechanical engineering), Societat Orgànica (consultoría medioambiental environmental consultant), Carles Bou (aparejador quantity surveyor); Cerámicas Valera (ladrillo cerámico ceramic bricks)
Superficie Floor area
1.117m²
Fotos Photos
Adrià Goula, Jesús Granada.