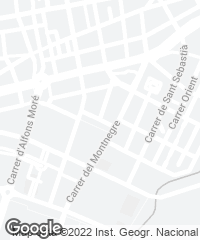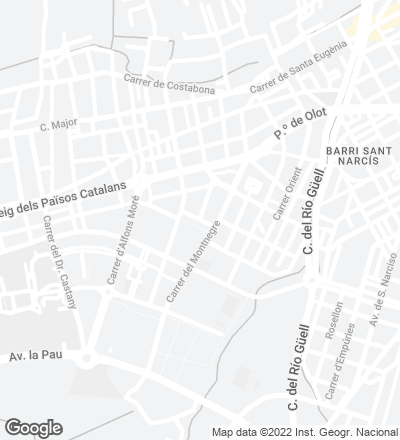 In a part of the city that creates a transition between the built-up fabric and the open urban expansion area characterized by the imposing presence of public facilites, the project proposes 35 apartments with a design based on principles of program flexibility and reduced carbon footrpint throughout the building's life cycle.
The use of CLT panels for the construction of the volume above grade permits recovering the traditional wall structure and defines inhabitable spaces of similar dimensions between load-bearing elements. The apartment units are made up of six rooms of some 12 square meters, which can harbor multiple uses and be connected or separated by means of sliding panels.
A single vertical circulation shaft in the center of the building gives access to all the apartments – all of which are floor-through units with opposite facades facing north and south – from the footbridge that defines the more urban facade of the block, open to the park on Tomàs Carreras i Artau street.
Aside from minimizing the embodied energy of construction materials and maintenance in the whole life of the building, the project strives to reduce the energy needed for comfort in the living spaces. The building system used guarantees good insulation and cross ventilation, and captures sunlight thanks to the south-facing facades, with a corridor that permits passive preheating of the incoming air of the double-flux ventilation system during winter, while in summer the corridor is reconfigured as an ombriére, and the air to ventilate the interior spaces comes in through the north facade. Ceiling fans strengthen ventilation in the summer, making air conditioning systems unnecessary.
The proposal suggests a free appropriation of each space with the option of incorporating changes in the program over time and of housing community spaces (nursery, gymnasium, offices, collective kitchen-dining room) in any of the units. The different rooms are chained so that from any side of the apartment one appreciates the full depth of the building and the sunlight from the south and the north coming in simultaneously, even in the spaces furthest away from the facades. The varying width of the footbridge creates domestic spaces by the entrance to each apartment unit.
Cliente Client
Privado Private
Arquitectos Architects
bosch.capdeferro arquitectura: Elisabet Capdeferro i Pla, Ramon Bosch i Pagès
Colaboradores Collaborators
Raül Elias Bramon (responsable de proyectos project manager); Arnau Arboix Sala (arquitecto architect)
Consultores Consultants
Xavier de Bolòs Prat (arquitectura técnica quantity surveyor); L3J arquitectura i enginyeria, Jaume Pastor (ingeniería engineering); Societat Orgànica + 10, s.c.c.l. Luca Volpi (consultoría sostenibilidad sustainability consulting); Arquitectes consultors d'estructures Blázquez Guanter, Lluís Guanter (estructura structure); SiS consultoria acústica, Francesc Sampedro (consultoría acústica acoustic consulting); Incafust, Institut Català de la Fusta, Eduard Correal (control de calidad y asesoramiento quality control and consulting); Beñat Serna (departamento técnico Egoin Egoin technical department)
Contratista Contractor
Egoin / Alumilux / Jaume Fusters / Placoguix / Elèctrica Riam / EIS Girona / Estructuras Ultra / Telecta
Superficie construida Floor area
4.375m²
Fotos Photos
José Hevia