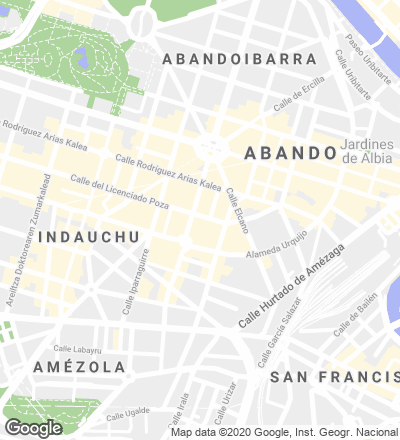 The new headquarters of the Basque Health Department go up on a corner site of the capital of Vizcaya, the last plot that remained empty in the heart of the administrative and financial district of Bilbao. Until now, the institution's staff was distributed in different buildings that citizens found hard to recognize, and that were far from one another and uncomfortable, as much for the users as for the workers of the technical services. The new building addresses the developer's desire to gather all staff in a recognizable place in order to make the administrative procedures easier, to increase the efficiency of the services tendered and to obtain a clearly identifiable corporate image. At the same time, the operation has generated significant benefits from the economic and real estate point of view.
The building is at the intersection of two main roads of the expansion area laid out in 1862, on the plot formerly occupied by the old Ledo-Arteche clinic. The restrictive urban code of the area urged to maintain the profile of the party walls, to set back the attics following a curved line, chamfering the corner and building a tower to crown the chamfer. The construction adapts to these conditions incorporating a glass envelope and, depending on the impact of light, it appears light as a textile surface that adapts to the built volume, folding in fragments towards the center, or rather acquiring the solid appearance of a crystalline formation.
To build on the site assigned, in Bilbao's urban expansion area, it was necessary to comply with strict bylaws. Under a polyhedral facade, the new headquarters house offices, an assembly hall and an auditorium. 
The whole program is organized on an 8,800-square meter surface, grouping the services and vertical communications along a spine adjoining the largest party wall. The offices are distributed in seven open-plan floors, on top of which two floors house institutional premises.?For its part, the assembly hall takes up the double height of the tower. The building has four basements with three floors for parking and an auditorium next to a series of premises in the first basement.
The multifaceted front constitutes an innovative climate control system that permits replacing air conditioning with an air renewal system, thanks to the construction of a double glazing that forms a continuous gallery along the facade. This gallery takes on an important role as acoustic insulator, reducing energy consumption at the same time. Furthermore, its folds have become particularly efficient elements to reproduce the vitality of the city, thanks to images that reflect the urban environment.

Cliente Client
Gobierno Vasco
Arquitectos Architects
Juan Coll-Barreu, Daniel Gutiérrez Zarza
Colaboradores Collaborators
Fernando de la Maza, Jorge Bilbao, Pablo Castro, Gorka García
Consultores Consultants
Mintegia y Bilbao (estructura structural engineer); Indotec, Typsa (instalaciones electrical and mechanical engineer); Tesysal (seguridad y salúd safety);Victor Mora Peña (aparejador budget supervisor)
Fotos Photos
Alejo Bagué