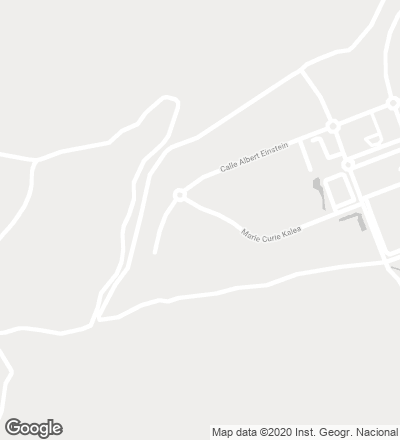 Commissioned after a competition, this building is meant to become a symbol representing the ambitious expansion carried out by the Technological Park of Álava, and of the commitment of government institutions with research and innovation. The brief determined that the owners would be able to rent or sell the building by floors or modules, and for this reason the design had to be flexible and adapt to different uses. This requirement, which entailed certain restrictions in the design of the project, was deemed positive, because the architecture that is able to adapt to different circumstances is stabler, and offers more possibilities. One could even say that the building buys time.
The unique appearance of this jagged volume, wrapped in splintered glass surfaces, expresses the building's goal of becoming the symbol of the innovation objectives that the Technological Park of Álava promotes.
The plot is located at the end of the urban axis of the boulevard, a green space that from the beginning has given the Technological Park a unitary character, defining the western boundary of the area. In this way, the site where the building will go up is close to the pasture and nearby oak groves, and in spite of the transformations that the construction of new buildings entails, in this case an effort was made to preserve the history of the place, its several layers of time. The volume shifts as it goes up, establishing a special relationship with the natural environment. Its geometry offers direct views of the hillside. This desire to open up to the surroundings also materializes in the form of an atrium of access that traverses the building and frames the wooded hill.
The glass skin is separated from the interior facade to create an air cavity that improves the thermal behavior of the building, reducing heat loss in winter and releasing excessive heat in summer. 
The exterior facades carve a faceted volume with mineral and glazed references to time, and that reflects the colors of the sky, the trees and the hills surrounding the area. Meanwhile, the cantilever that emerges from the main facade emphasizes the visual lightness of glass.
The building develops a climate control strategy that consists of a waterproof, insulated internal shell and an outer, ventilated enclosure that performs as a protecting shade of the former. In winter, the intermediate cavity is a thermal cushion that insulates the interior spaces from the exterior, reducing heat loss. In the warm days of summer the differences in pressure cool the interior facade, reducing the need for air conditioning. This significantly saves energy and therefore also the emission of greenhouse gas.
Cliente Client
Parque Tecnológico
Arquitectos Architects
Juan Coll-Barreu, Daniel Gutiérrez Zarza
Colaboradores Collaborators
Juan Ángel Aketxe (aparejador quantity surveyor); Luis Montiel (maquetas models)
Consultores Consultants
Coll-Barreu (fachada facade); Minteguia y Bilbao (estructura structure); Indotec (instalaciones mechanical engineering)
Contratista Contractor
UTE Miñano (Jose Antonio Olabarri Construcciones, Construcciones Hierro López de Arbina, Gesaltza Construcciones)
Fotos Photos
Aleix Bagué