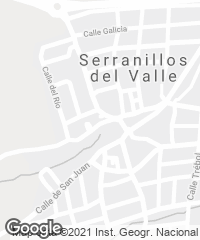 Serranillos del Valle belongs to the Sagra region, which is shared between Madrid and Toledo. Its invasion by weekend residences has not altered the rural character of the place, whose urban core still preserves splendid farmhouses. The old Town Hall, however, a graceless building of a pretentiously regional style, was in a poor state, and had to be demolished. The new Town Hall occupies the same spot on the Plaza de España, a shabby, irregularly-shaped space, little more than an intersection of roads.
These conditions and the dimensions of the building, less than 150 square meters of ground, led to the decision not to refurbish the square through the new construction. The project concentrated instead on creating a transparent precinct – one which in a way inverted the traditional configuration of the town hall as a seat of institutional power, without altogether stripping it of the inevitable symbolisms: the flags which townsfolk identify themselves with, or the balcony for the mayor to preside over celebrations. A small glazed courtyard placed flush with the main facade, and on to which all the rooms flow out, establishes a link between the municipal premises and the public square, enhancing the open character of the building.
Constructionally the new Town Hall is a box of thick masonry walls – with an external finish of white cement mortar – and a plinth of calatorao stone. The glazed facades of the courtyard are set up with a simple steel structure clad with plates painted dark gray. The window frames, also of steel, are set flush with the tense plane of the facade. Inside, the same dyed eyong plywood board is used for the wall facings, the partitions and the furniture. The diverders never reach all the way up to the ceiling, thereby drawing attention to the slabs of reinforced concrete that are left unfaced on both stories. The same stone used for the plinth becomes the flooring of the ground level and the courtyard; for upstairs the architects chose elondo wood boards.
For its functional layout, the construction assumes the simplicity of life in the town, which permeates the buiding from outside through the courtyard and into the plenary session hall. This room can be opened completely to accommodate large assemblies. To the rear of the parcel are the secondary elements: storerooms, lavatories, the elevator and the stairs. The staircase opens to a double-height space that gives the building a public scale, despite its small dimensions...[+]
Cliente Client
Comunidad de Madrid. Consejería de Medio Ambiente y Desarrollo Regional
Arquitectos Architects
Proyecto project: Francisco Domouso, Ginés Garrido, Emilio Rodríguez; César Gil (colaborador collaborator). Proyecto modificado construction project: Ginés Garrido; Felipe Holgado (colaborador collaborator). Dirección de obra site supervision: Ginés Garrido; Ángel Sanguino, Felipe Holgado (colaboradores collaborators)
Colaboradores Collaborators
Beatriz Álvarez (aparejador quantity surveyor)
Contratista Contractor
JOCA
Fotos Photos
Eduardo Sánchez & Ángel Luis Baltanás