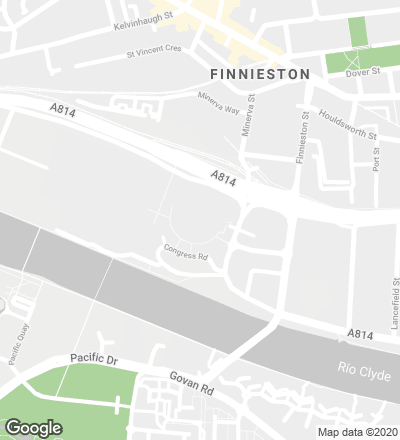 On the northern edge of the River Clyde, the SSE Hydro joins the Clyde Auditorium, the iconic concert hall also built by Foster + Partners in 1997 and known locally as 'the armadillo' for its recognisable shape. The SSE Hydro – Scotland's largest purpose-built public event arena – is a new entertainment destination within the redevelopment of Glasgow's former docks. As a token of the years of the golden age of shipbuilding, one of old dock cranes has been maintained. A highly flexible indoor venue, the arena's 12,500-capacity auditorium bowl provides a combination of fixed, retractable and removable seating to enable a wide range of different staging and concert layouts – it can also be configured for a number of sporting events.
Opening up the riverside, the arena is set back from the water's edge to frame a new public square between the two buildings. Gentle concrete curves frame the entrances and create an attractive green, landscaped plinth where the auditorium's volume rests. The main entrance is to the south of the Arena, via a generous top-lit lobby. A second, fully glazed high-level atrium gives visitors panoramic views of over the public square to the river, and leads to further facilities, including a dedicated VIP floor with boxes and club seats.
The seating bowl is shaped like an amphitheatre, enclosed by a lattice steel roof and wrapped in translucent ETFE cushions. The building's form is generated from the inside-out by the seating, which wraps around the stage above ground level and rises to the front, optimising the viewing angle and drawing the audience closer to the excitement of the performance. The roof canopy follows this distinctive angled profile, rising away from the busy main road to the rear to reveal a dramatic 40-metre-high elevation to the south – its structure spans 120 metres in a shallow dome of diagonally latticed steelwork. The dome is 45 metres above ground level at its highest point. The facade is 15 metres high at the rear (north), rising to 33 metres at the front (south).
The upper part of the building is clad in ripples of translucent ETFE, onto which patterns and images can be projected. The translucent cladding allows daylight in, animating the facade with the movement of people and exposing the dramatic tier structure; at night the front of the building can be illuminated to make the building glow like a beacon for the new quarter.
Cliente Client
Scottish Exhibition Centre Ltd (SEC)
Arquitecto Architect
Foster + Partners
Consultores Consultants
Arup (estructura structural engineering); Gardiner & Theobald (aparejador quantity surveyor); Arup (instalaciones M+E Engineering)
Fotos Photos
Nigel Young / Foster + Partners