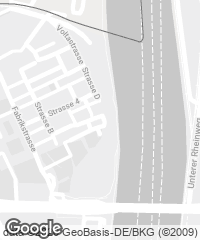 The masterplan of the Novartis Campus in Basel calls for a uniform building height of 23.5 m. The office building Asklepios 8 is taller because it is situated at the outermost corner of the campus, where the open expanse of the river Rhine invites a different scale. Other taller buildings will flank the Rhine in the future, anchoring the campus in the cityscape of Basel. The orthogonal geometry and volume of the Rhine front relates directly to the streets and squares of the campus behind it.
Asklepios 8 consists of two cubes of almost the same height, placed on top of each other. One goes up six floors and is 23.5 m tall, corresponding to the height of the neighboring buildings as defined by the masterplan. The cube on top has seven stories, to compensate the perspectival foreshortening when looking at the building from below or a distance. Between the two cubes, a high open space provides a spacious lounge for a wide spectrum of activities, events, working situations, seminars, etc. By means of cantilever balconies, the two cores further support the spatiality and multifunctionality of this tall room. The distinctive volumetric structure of Asklepios 8 makes it a high building rather than a high-rise that typically repeats identical layers from top to bottom.
All of the functions of a facade – light and views for users, protection against sun and rain, stability and structure – are equally and actively involved in shaping the exterior of the building. Conventionally, protection against rain and sun and even the structure are assigned a subordinate architectural role. In Asklepios 8 we have integrated all of these functions into a linear and three-dimensional system, whose vertical alignment follows gravity, such as the structure and rainwater. The system is complemented by horizontally cantilevered ceilings that generate an orthogonal fabric and tone down the materiality of the glass.
The office space, available on eleven stories, is extremely attractive due to its exceptional lighting, views and communicative layout.
On the side of the building that faces the Rhine, Asklepios 8 is supported by two horizontal volumes that establish a connection on the upper campus level between the two parks located to the south and to the east. On the level of the Rhine Promenade, the two horizontal volumes house a riverside restaurant and café that are open to the public.
Client
Novartis International AG
Herzog & de Meuron Project Team
Partners: Jacques Herzog, Pierre de Meuron, Stefan Marbach, Andreas Fries (Partner in Charge)
Project Team: Martin Krapp (Project Manager, Associate), Claudia Zipperle (Project Architect, Associate), Stephan Weber (Project Architect).
María Esther Bergua Orduna, Blanca Bravo Reyes, Duarte De Azevedo Coutinho Lobo Antunes, Benjamin Engelhardt, Lisa Kathrin Euler, Oliver Franke, Luis Gisler, José Javier González Menéndez, Jennifer Gutteridge, Daisuke Hirabayashi, Justin Hui, Hyun Seok Kang, Johannes Rudolf Kohnle, Isabel Labrador, María Luisa León Palacios, María Ángeles Lerín Ruesca, Frank Loer, Áron Lörincz, Mateo Mori Meana, Francisca Moura, Mònica Ors Romagosa, Argel Padilla Figueroa, Miguel Palencia Olavarrieta, David Palussiere, Beatriz Pérez de Iriarte, David Pfister, Ebanie Powell, Francisco Requena Crespo, Eduardo Salgado Mordt, Sebastian Schäfer, Gabriele Schell-Steven, Ralf Schwaller, Cagin Sergin, Guobin Shen, Iva Smrke Kröger, Agustín Solórzano, Hendrik Steinigeweg, Markus Stern, Florian Stroh, Masato Takahashi, Raha Talebi, Ana Miruna Tutoveanu, Federica von Euw, Stephan Weber, Danica Willi, Freya Winkelmann, Mathew Winter, Gabriel Wulf.
Planning
Architect Planning: Herzog & de Meuron; Electrical Engineering: Sytek AG; HVAC Engineering: Aicher, De Martin, Zweng AG; Plumbing Engineering: Der Ingeniör Haustechnikplaner AG, Locher & Schwitty Gebäudetechnik GmbH; Structural Engineering: ZPF Ingenieure AG; Fire Protection: AFC Air Flow Consulting AG, A+F Brandschutz GmbH; Audio-Video-Planning: Virtually Audio GmbH; Door: E-Tool AG; Facade: PPEngineering; General Planner: Caretta + Weidmann Baumanagement AG; Kitchen: Klaus Architekten Innenarchitekten AG; Lighting: Reflexion AG; Logistics: OTB AG; Security: Professional Security Design AG.
Consulting
Aerodynamics: Wacker Ingenieure; Building Physics: Zender & Kälin; Signage: New Identity Ltd., Art: Katharina Fritsch; Climate Engineering: Transsolar Energietechnik GmbH; Interior Plant Design: Vogt Landschaftsarchitekten AG.