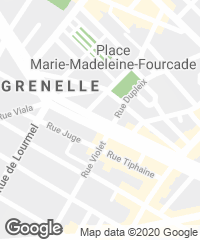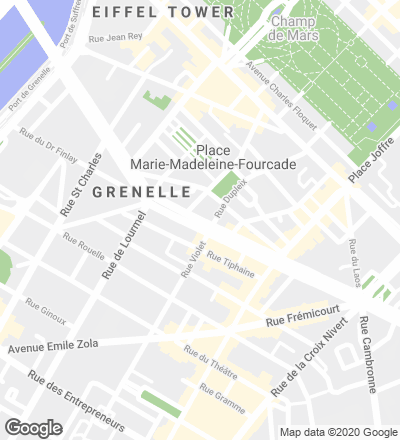 Located in Paris, this apartment building facing two intersecting roads – Rue Frémicourt and Boulevard de Grenelle – has some gardens adjacent to it, and is organized in such a way that the two blocks – one providing social housing and the other private property – make the most of all solar radiation available. For this purpose the building opens south, forms terraces in the attics, and is dotted with glazed openings echoing the typically Parisian windows and balconies around.
Conceived with a similar compositional scheme, the four facades present different materials: the one on the street side uses glass; the two looking on to the inner garden, anodized aluminum and wood; and the elevation towards the boulevard is mainly executed with ceramic.
The latter facade is the most representative side of the complex. It consists of an inner layer of reinforced concrete clad with fiberglass thermal insulation 16 centimeters thick, and all this is combined with a ventilated envelope built with ceramic tiles that overlap one another, anchored to a subframe of aluminum profiles. Enameled in brown tones on both sides, the ceramic tiles present a unique rainbow-like finish that is the result of a manufacturing process involving three parts: baking at high temperature, vitrification, and finally the superficial desublimation of metallic particles. It is these particles that give the pieces their special pearly reflections, which change in the course of the day with the quality of light around or the particular point of view of the observer.
Obra Work
35 viviendas en el boulevard Grenelle 35 apartments in Paris (France).
Programa Program
35 viviendas, 2 plantas de locales comerciales y aparcamiento subterráneo 35 private housing, 2 ground-floor comercial units, common underground parking.
Superficie construida Floor area
2.800 m² (viviendas housing).
Presupuesto Budget
5.350.000 euros.
Cliente Client
SCI Motte Picquet Grenelle c/o Nexity Seeri.
Arquitectos Architects
Phériphériques Architectes/ Anne-Françoise Jumeau, Emmanuelle Marin, David Trottin.
Colaboradores Collaborators
Sibat, Agence Franck Boutté, Autre Image.
Consumo energético Energy consumption
menor de 50 kWh/m²/año lower than 50 kWh/m²/year
Fotos Photos
Sergio Grazia.