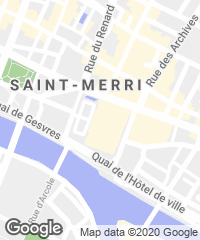 The building stands on Rue Championnet, a traditional street in Paris's 18th District, characterized by its continuity of facades typical of Haussmann's urban enlargement grid. In volume terms, the building follows the street alignments strictly, freeing up space inside and making the most of buildable area to fit in the twelve apartments stipulated by the program. All the units give out onto the exterior by means of elongated openings that abide by the proportions of traditional windows. 

More literal and hence also more radical from an urban point of view is the manner in which the facade replicates the context through a cladding of high-pressure laminated panels on which a photograph of the elevation of the adjacent building has been printed, with all its details and even simulating its material makeup. This clone image is activated by the movement of the swing shutters that protect the openings.

Obra Work
12 apartamentos en la rue Championnet, París (Francia); Haussmann Stories, 12 apartments in Paris (France).
Arquitectos Architects
Chartier-Corbasson architects / Thomas Corbasson.
Colaboradores Collaborators
L. Muratorio, M. Ramírez, E. Leroy / Alternative, FACEA.
Fotos Photos
Romain Meffre, Yves Marchand.