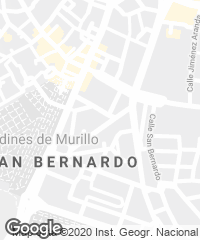 The plot where this residential building goes up is located in the city of Seville, within the perimeter of its historic center, and more specifically in the east sector – between the Jardines de Murillo and the San Bernardo quarter. Its main facade is oriented towards the northeast, onto Rastro street. The urban context where it goes up is typical of the Sevillian capital, with houses rising up to three heights in most cases, and old buildings, with some few exceptions. The headquarters of the Regional Government is located right across from the plot where this complex sits.
The project proposes a building between party walls with a modern design but in dialogue with the nearby and typical buildings in the area. One of the premises was to blend a contemporary structure in the historic fabric of a city like Seville. It is a residential building with ground, first, second floor and penthouse, comprising 21 housing units – of one, two, three, and four bedrooms –, wrapped around a large central courtyard, which becomes the key element in the project. The building also features two floors below grade for parking and lumber rooms. Because most of the dwellings face the interior, the project takes this idea as starting point: that the design of this inner courtyard must be given the same relevance as the exterior facades of the building. The courtyard, designed with curved lines and gentle, sinuous contours, creates a unique, fresh and luminuos space. The interior balconies, with perforated metallic screens of different heights, flow out to this space, which becomes a transition zone and a gathering place for neighbors.
Located in the historic center of Seville, the project yields all protagonism to the wavy interior courtyard, wrapped by corridor balconies lined with perforated metallic sheets that function as parapets. 
To achieve an adequate ventilation and sufficient lighting inside the apartments, the building features a series of lightwells attached to the party walls and which are placed throughout the perimeter of the plot. These lightwells, along with the courtyard, ensure that all the housing units have cross ventilation.
There are two vertical communication cores, and the distribution is arranged through corridors in some dwellings, and closed communal areas in others. There is a small swimiming pool and a solarium on the roof, creating another common area for neighbors. As for the palette of materials, the project combines some traditional ones, like grey granite, with others like deployé lacquered aluminum, which gives the facades a distinctive image.
Cliente Client
Metrovacesa
Arquitectos Architects
Román & Canivell arquitectos
Contratista Contractor
Vías y Construcciones, Grupo ACS
Porcelanosa (revestimientos coatings); Junker (suelos soils); Puertas Guillén (carpintería interior interior carpentry); Estrugal (carpintería exterior exterior carpentry); Roca (sanitarios y griferías toilets and faucets); LG (climatización); Autocad, Cype, Presto (software)
Presupuesto Budget
2.200.000 euros
Fotos Photos
Miguel de Guzmán