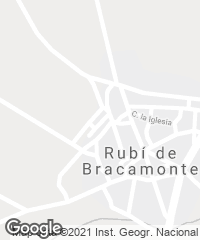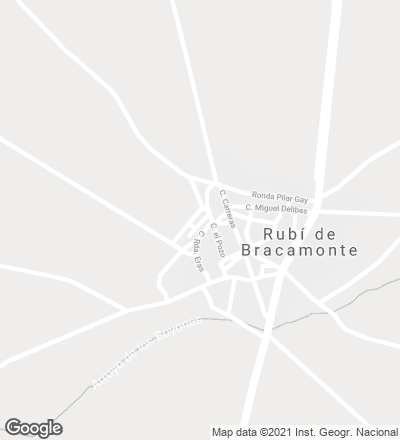 Rubí de Bracamonte is part of a region of farming villages which have long lost the more picturesque features of their character. This building is situated at the urban edge of the small Valladolid town, and duly exploits its frontier location. An environment of heterogeneous constructions - the organic synthesis of residential and agricultural and livestock facilities - does not establish any structural norms. The project hence unfolds with the geometric autonomy of a farmstead. A contemporary architecture attentive to the prompts of the place settles on the periphery of the hamlet, following the linear pattern of the crop beyond. Its profile appears where flat land and open sky meet, like a reference in the abstract Castilian landscape.
The program is formalized in a disciplined row of houses which face an agricultural skyline. A brick plinth unifies the different volumes, whose archetypal image is completed with picture book chimneys.
Two parallel rows, only the longer one of which has so far been carried out, flaunt their ties with the land through an earthy-looking plinth. Over this, a series of isolated pieces use the double scale to transmit a unique and necessarily austere image. Through an orderly repetition of the building elements typifying rural nuclei, the project explores the expressive capacity of basic shapes and modest materials. Eight attached two-story houses give shape to the rigorous directives of public housing developments. The building aligns itself with the parcel's longitudinal border, where the entrances are situated. To concentrate open space at the opposite end and thereby give it a greater breadth, the circulation elements are placed along the party walls. This pushes the bulk of the program to the rear of the lot. Without trying to reflect the sizes of the spaces situated behind them, the elevations are composed from afar. The large windows of the rooms over the entrances, or the gray bands that contain the more modest apertures looking out to the fields, defy the small scale of the project by engaging in a dialogue with the territory.
The buildings have been alined with the edge of the site to leave enough space for a garden on the opposite facade. From a distance, the openings link the expanse of the landscape with the small scale of the complex.
As for materials, the project continues with the simplicity of resources it begins with. The low separating walls and the facades at ground level are made of unfaced brick, in continuance of the courtyard. Screed plaster surfaces define the white volumes that help the residents recognize their respective houses within the complex. And ceramic tiling finishes off the roof, which slants at an angle that lets sunlight in through the longitudinal slit of the first floor. Stainless steel chimneys round off the archetypal and feignedly naïve image of the dwellings, stressing, as in a child's drawing, the essence of domesticity.

Cliente Client
Junta de Castilla y León
Arquitectos Architects
Julio Grijalba, Alberto Grijalba, Paloma Gil, Eduardo Carazo, Víctor Ruiz
Colaboradores Collaborators
Alberto Grijalba Grijalba (aparejador quantity surveyor)
Contratista Contractor
Fuenco
Fotos Photos
Ricardo González