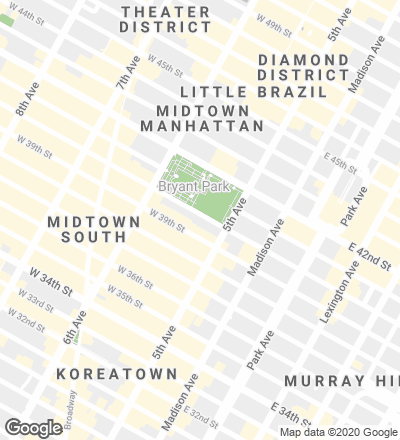 This project is situated in Midtown Manhattan, facing the New York Public Library and overlooking Bryant Park. The building, rising 32 floors, consists of a hotel that extends to the 13th floor, with a further 18 floors of private residences. Both programs are served by two separate lobbies at street level, with additional retail units.
The building follows the traditional tripartite composition of the New York tower: base, shaft, and crown. The base occupies the full width of the site and contains a double-height ground floor. A decreased footprint, together with an increased floor-to-ceiling height, mark the start of the shaft. The crown is established by double-height spaces for the two penthouses at the top of the tower.
The composition of the building is reduced to a clear post-and-beam grid, lending the building a classical appearance and asserting its place within the streetscape. The mix used for the polished pre-cast concrete facade elements contains aggregates identical to the stone varieties on the historic buildings. The formal language of the articulated masonry facilitates varied spacing between elements on each facade in response to its context.
Obra Work
The Bryant
Cliente Client
HFZ Capital Group
Arquitectos Architects
David Chipperfield Architects London;
David Chipperfield, Billy Prendergast (diseño design lead) —directores directors—; Mattias Kunz (director de proyecto project director), Mira Abad, Pau Bajet, Gonçalo Baptista, Kleopatra Chelmi, Florian Dirschedl, Gabriel Fernandez-Abascal, Micha Gamper, Ines Gavelli, Maria Giramé, Christopher Harvey, Johannes Leskien, Nic Moore, Sergio Pereira (equipo de proyecto project team)
Colaboradores Collaborators
Stonehill Taylor Architects (arquitectos de contacto contact architects); George Sexton Associates LLC (iluminación lighting consultant); Severud Associates Consulting Engineers P.C. (estructura structural engineer); WSP Group PLC (instalaciones services engineer); Corcoran Sunshine (asesor inmobiliario real estate consultant); Vidaris, Inc. (fachada facade); T.G. Nickel & Associates LLC (contratista contractor)
Imágenes Images
Matthew Williams, Mattias Kunz