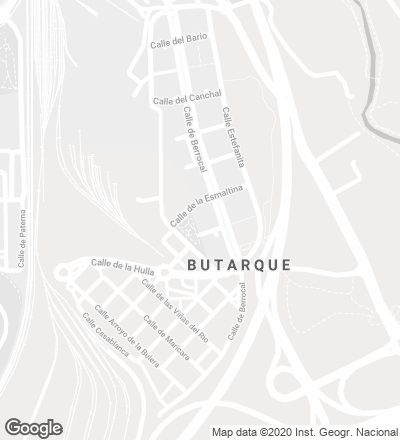 In the Villaverde district of southern Madrid, a new social housing scheme traces an orthogonal pattern presided by a large boulevard, in an area occupied until just recently by a large factory. This part of the city is still under development, but the parameters for the future neighborhood in the overall masterplan were clear, requesting a U-shaped block, fifteen meters deep, eight stories high and a pitched roof; all in a 2,000 square meter footprint.
Rather than the U-shape (predetermined by the overall masterplan), what makes this building special is the exterior treatment, that dilutes the presence of the roof and dyes the facade in different tones.
The exterior enclosure consists of dyed GRC pieces (corresponding to the closets inside the dwellings) that alternate with floor-to-ceiling windows ordered in staggered parallel rows in the form of balconies.
Abiding by each one of these premises, the block, that comprises a total of 176 apartments, interprets these restrictions in a way that guarantees a bold and unique result. So whereas the neighboring buildings adopt a symmetrical, double-pitched roof rounding off the last floor, the new prism blends facade with roof, so there is no way of knowing where one ends and where the other starts. Towards the exterior of the U, and in most of the bay, the vertical enclosure is transformed into a low roof with a very gentle pitch, whereas towards the interior it bevels slightly from the fifth floor on, and more noticeably after the last floor. This strategy allows for a more sculptural approach that is underscored by the varied rhythm of openings, designed as balcony-windows with rails and uniformly punched into each facade of the volume. The stairs are tucked into the solid areas, and the rest of the facade is a profusely punctured surface that speaks of a great variety of distributions and of an absence of hierarchy among rooms: the usual living room-large window, bedrooms and kitchen-smaller window relationship is not repeated on the facade, yet the one, two and three-bedroom apartments show an exemplary order that is adjusted to the social housing building codes. The key is an intermediate space, glazed and with terrazzo tile, that assimilates the different kinds of fenestration so that no floor has the same order, so the halls receive enough natural light and lastly, so that the clotheslines do not become a sort of stopper once they are part of the balcony.
The prefabricated concrete panels reinforced with fiberglass, ten centimeters deep and in a range of earthy tones that go from ocher to brown, give the prism a chromatic variation that is underscored on ground floor by the presence of a slate blue concrete portico. Accompanied by a band of landscaping, this pergola marks the access to the garage and the arcades, furnishing the U's more domestic interior.
Cliente Client
Empresa Municipal de la Vivienda
Arquitectos Architects
David Chipperfield, José María Fernández-Isla
Colaboradores Collaborators
K. Carmody, A. Groarke, T. Hayatsu, K. Ohsugi, B. Tulkens, J. Wong, M. Zogrotzski; Matías M. Santolaya
Consultores Consultants
M. Linares (estructura structure); Santiago Sanz, Emilio Fernandez (ingeniería mechanical engineering); Jan F. Serrano (aparejador quantity surveyor)
Contratista Contractor
Begar
Fotos Photos
Roland Halbe